*Disclaimer*
The information contained on this page is for promotional and informational purposes only. All equipment should be used by trained professional tradesmen who have been trained how to use the equipment described on this page, and understand the risks of their work. PowerPak assumes no responsibility for errors or omissions in the use or misuse of any product purchased. In no event shall PowerPak be liable for any direct, special, indirect, consequential, or incidental damages or any damages whatsoever, whether in an action of contract, negligence or other torts, arising out of or in connection with the use of this information or the contents of this page. PowerPak reserves the right to make additions, deletions, or modifications to the contents on this page at any time without prior notice.

Concrete barriers are the most common and widely used type of barrier. But there is a shift happening. More and more companies are seeing the value proposition in switching to water-filled barriers.
It may not be fair to say that water-filled barriers are "better" than portable concrete barriers. They both serve specific purposes. But at Powerpak, we stand by the notion that water-filled barriers are far more versatile than concrete barriers.
If you aren't familiar with the term, water-filled barriers are essentially made of plastic (polymer) panels with substantial water-holding capacity. You've seen them around. Once filled, they become a proper barricade.
If you are looking for a viable replacement for concrete barriers, look no further. There are various benefits of water-filled barriers that make them superior to concrete alternatives.
Pros of Water-Filled Barriers Compared to Concrete Barriers
Here are five reasons why you should choose water-filled barriers over concrete barriers.
1. Visibility
You know what concrete looks like. It's not high vis. Concrete barriers can be painted to be more visible, but that paint chips away and gets damaged when moved and transported and dulled over time. In many cases, they are left unpainted, and do not add additional visibility.
On the other hand, a water-filled barrier offers better visibility — thanks to its plastic body that can be finished in several bright colors, particularly safely orange. Plastic retains its color with its full intensity for a long time as compared to a concrete surface. This is why a water-filled barrier continues to exhibit better visibility and hence better caution than a regular concrete barrier.
2. Customizability
Customization is another important area where water-filled barriers comfortably beat concrete barriers.
Let's break this down, because we are talking about two different types of customizability. You've got visual and functional differences.
Visually, it is easy to customize a water-filled barrier with logos, messages, and ads repeatedly. It's a flat plastic surface, so it's easy to work with. You can easily remove the existing prints, and stickers and replace them with new ones. This process requires very little labor, time, and doesn't require the barriers to be sent anywhere for rebranding. With any barrier, stenciling is a very popular way to add your company name and information. PowerPak offer's in-house stenciling services, so you can get custom stenciled barriers shipped in a short turn around time.
Concrete barriers can be visually customized as well, but not as easily. Concrete is a porous substrate, so you need to use stickers with aggressive adhesive which turns into an issue when you want to remove it. Stenciling is the most popular option. It's simple and easy to do, but it still requires time and labor that could be better used elsewhere, if the stenciling was already completed before shipping.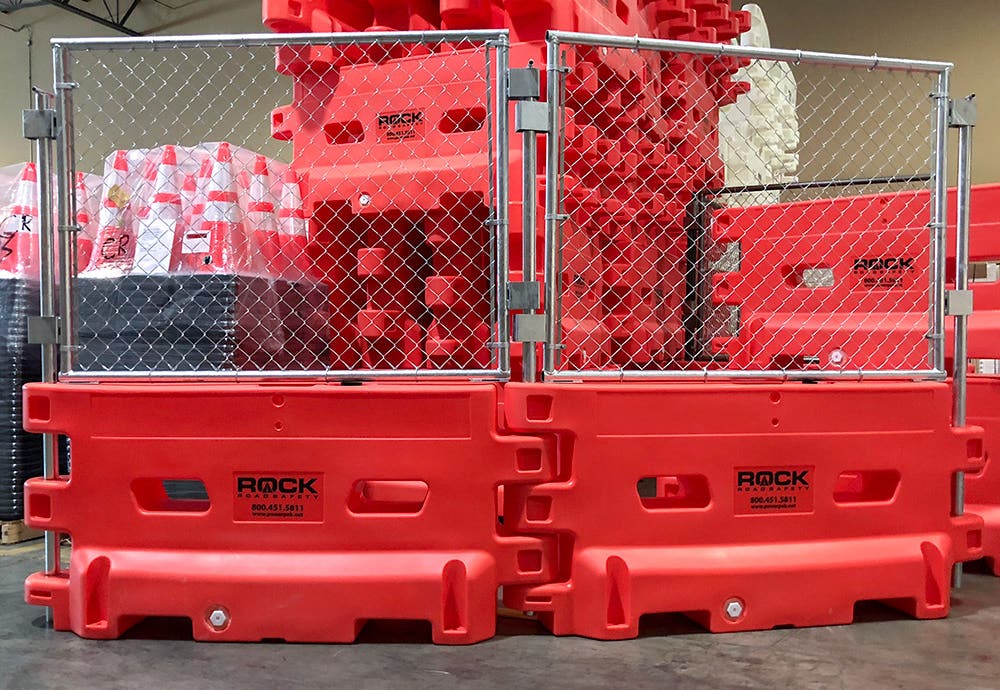 Functionally, water-filled barriers also boast better customization than concrete counterparts in terms of how you want to use them. Most top-of-the-line water barriers are made of removable panels joined through connecting pins and hinges. This feature makes sure that you can adjust the frame of the barrier in line with different requirements. For instance, you can use the same water-filled barrier in "I" and "L" shapes. In contrast, the frame and shape of a concrete barrier can't be changed once it is made.
You can also transform water-filled barriers into a robust site perimeter through modular fencing. Many top-quality water-filled barriers come with mounting holes for gawk panels and fences. And many water-filled barriers have a molded box on the top that is designed to fit the base of a barricade light. So, you can drop it in, bolt it down, and you are done. You can't customize and transform a concrete barrier in this manner.
3. Durability
This is one of the more surprising points. Yes, water-filled barriers compete with concrete barriers in terms of durability. By no means are we saying that concrete isn't durable. In the best situation, a concrete barrier will last a very long time. But that best situation is when you can set it and forget it. Every time you move a concrete barrier, you risk damaging it. And just like everything else made of concrete, a small crack today is a big problem later.
A water-filled barrier made of high-density polyethylene can withstand all sorts of handling and inclement outdoor conditions and hold up for years. They are designed to be moved as frequently as you need. It also doesn't wear down like concrete barricade panels.
Water-filled barriers are also more durable than concrete barriers because of their better shock absorption. Due to their mixed form (solid exterior and fluid interior), a water-filled barrier withstands impacts and shocks better than densely solid and brittle concrete barriers.
4. Cost-Effectiveness
The term cost-effectiveness can mean a lot of things. So, let's break this down as well.
Comparing the cost of water-filled barriers can be close to half the cost per linear foot compared to concrete barriers. But to be fair, the concrete barrier is ready to use when purchased. Water-filled barriers need to be filled with water before use. The cost of filling with water varies drastically depending on location, if water is available, or if it's being brought in by truck. Adding this additional cost reduces the gap in price difference, but on average, water-filled barriers are still less expensive.
The cost of transportation is one of the biggest factors with barriers in general. A six-foot traditional concrete barrier will weigh around 2,700 pounds or roughly 460 pounds per linear foot. It needs to be loaded, unloaded and moved with lifting machinery, such as a forklift or crane.
An empty water-filled barrier weighs around 90 lbs. This reduces the cost and logistics involved with transporting and moving the barriers. Empty barriers could be loaded into the back of a utility pick up truck by two workers. Then unloaded and set in place by hand and then filled. For smaller projects or any project that does not already have lifts available, water-filled barriers reduce costs significantly.
The manufacturing of polymer-based items has gone down in the last couple of decades. In contrast, the manufacturing of concrete-based items has gone slightly up. Also, the use of the material in a water-filled barrier remains less due to its hollow-body construction. These are the two reasons why water-filled barriers are not as expensive anymore. You can easily replace concrete barriers with water-filled options without worrying about ballooning costs.
5. Storage
As mentioned earlier, water-filled barriers come in parts. You can dismantle a water-filled barricade and transport it from one place to the other without needing heavy lifting and transportation equipment. This collapsible nature of water-filled barriers also makes them easy to store. You can fully utilize the vertical space of a storage facility by stacking barriers or shelving them. They can be stored on their own or pallet wrapped.
When stacking concrete barriers, they must be stacked upright in formation to evenly distribute the weight. A stack of concrete barriers takes up a large footprint and cannot exceed specific heights. Again, moving concrete barriers around in a storage facility or yard requires lifting machinery.
Performance Differences Between Concrete and Water-Filled Barriers
We aren't counting performance as a reason why water-filled barriers are better than concrete barriers. Both barrier options perform differently. There is a time and place for both types.
When working on a high-speed roadway, the goal is to protect road workers from vehicles. Concrete barriers are much more effective at deflecting vehicles away from worksites and back toward the road. The tradeoff is that it increases the risk to the driver because they essentially crash into a concrete wall and bounce back into traffic, potentially experiencing another collision.
Water-filled barriers on the other hand absorb impact. Overall, they are considered the safer option for both the driver and the workers in many cases, but water-filled barriers aren't as effective at preventing a vehicle from breaching. It would be difficult for a water-filled barrier to protect the road workers in the same way a concrete barrier would.
FAQs About Water-Filled Barriers
Before you build water-filled barriers into your next project's budget, there is more to understand.
When Should You Use a Water-Filled Barrier?
A water-filled barrier is a viable solution in many situations. They offer durability, visibility and versatility in construction zones, airports, events and other areas that require a sturdy barrier. They are portable, which helps crews save money by reducing transportation costs and reusing barriers for multiple jobs. Water barriers are also safer for the public, so use them on major roads when driver safety is a concern.
How Much Water Does a Water Barrier Hold?
A water-filled barrier can hold 100-400 gallons of water, depending on its size. The amount of water you use is up to you. Save time and money by limiting how much you fill each barrier when the likelihood of something disturbing them is low.
What Are the Potential Cons of Water-Filled Barriers?
A possible concern with water-filled barriers is their strength. While water barriers are durable, concrete barriers are naturally stronger and can withstand collisions with heavy-duty machinery more gracefully. The lack of strength improves road safety if a driver collides with a water barrier instead of a concrete barrier, but the risk to construction crews is higher with a water barrier.
What Are the Average Water-Filled Barrier Dimensions?
Standard water-filled barriers are 6 feet long, 3 feet tall and 18 inches thick. Smaller and larger variations are available.
What Are Water Barriers Made Of?
Water-filled barriers comprise polyethylene (PE) plastic. PE offers high durability at a lower price than concrete. As a UV-resistant material, PE maintains its color and strength in outdoor settings.
PowerPak's Water-Filled Barriers
PowerPak has made finding the right water-filled barrier for your job simple by offering two high-quality options. Rock Road Safety WB300 (22179, 22180) and CONTRACTOR Water-filled Barrier (22470).
Rock Road Safety WB300 is one of the best water-filled barrier options you can find anywhere. It is a top-of-the-line option for various reasons.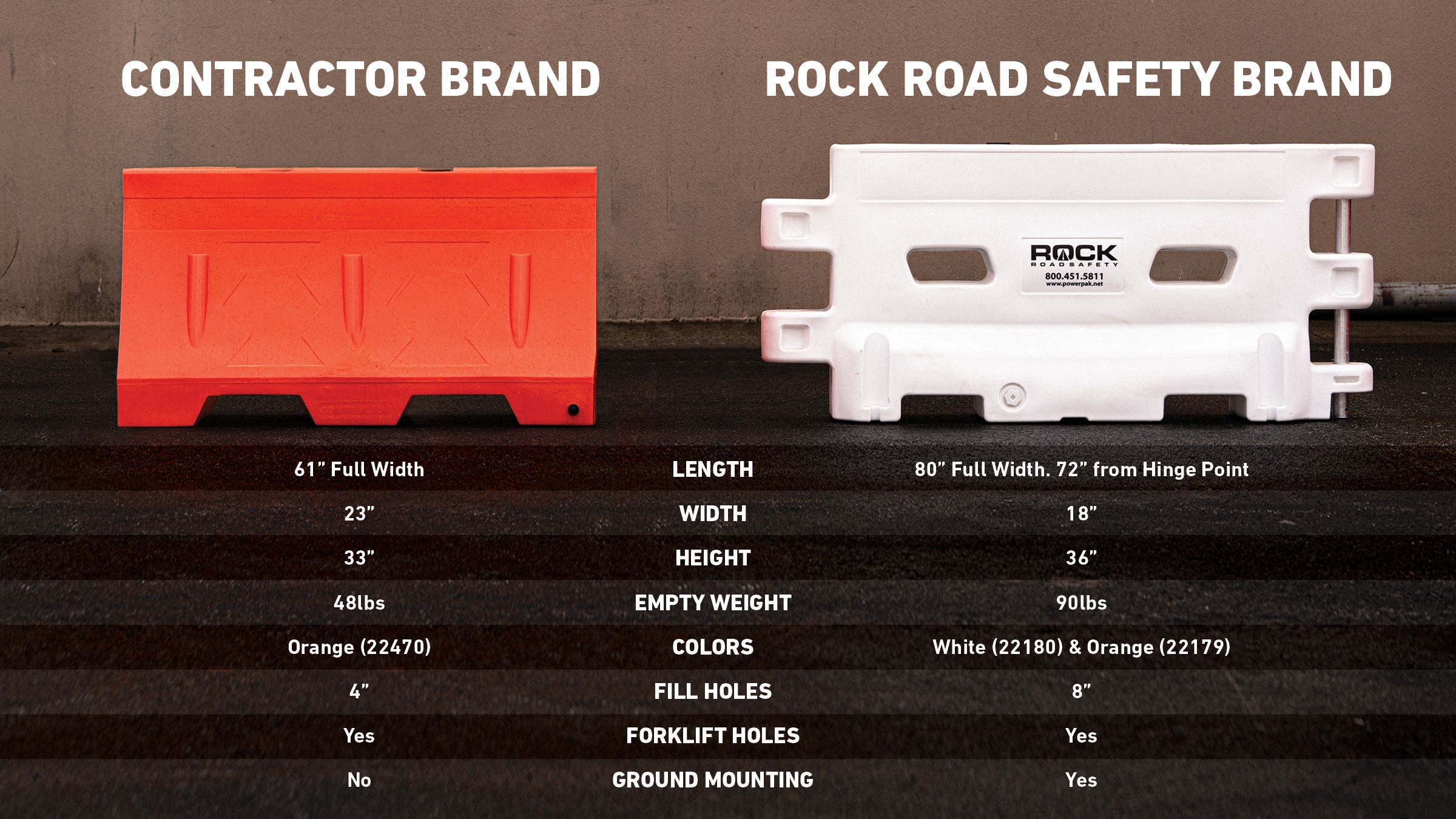 The WB300 features a pallet jack and forklift holes that make the movement of the loaded barrier easy. This barrier is 72-inch wide not including the hinges and weighs 90 pounds when empty.
Its hinge design enables a 90-degree pivot between two sections of the barricade. This flexibility at the joints lets you effectively use this Rock Road Safety water-filled barrier to manage tight turns and curved roads.
The WB300 features a large 8-inch fill hole that improves the pace of the filling process. The fill hole is secured by a twist-lock and plastic cap.
It also features two tamper-resistant drain holes that ensure quick draining after use. Hinge points of the WB300 water barrier have a double-wall knuckle design to prevent breakage at joints. The WB300 has built-in mounting holes to secure the barrier to the ground.
CONTRACTOR Water-filled Barrier is a more economical option that meets all your barrier needs.
This 61-inch-wide barrier weighs around 48 pounds when empty. It also has forklift and pallet jack holes, making it very easy and cost-effective to handle and transport.
The CONTRACTOR Water-filled Barrier features a 4-inch fill cap and a 2-inch drain plug and is made of polyethylene with UV8 protection. The 3/16-inch thick walls and rotational molding process ensures that these barriers are very durable.
If you are interested in the Rock Road Safety WB300 or CONTRACTOR Water-filled Barrier, get in touch with PowerPak Civil & Safety. We've been serving the New York Metro area for over 25 years with a large selection of top-of-the-line industrial safety equipment and supplies.