Everyone loves scissor lifts. What's not to love, they are simple to operate, they are convenient to use, they can be used indoors and outdoors, and they are safe when used correctly. Speaking of safety, one of the primary concerns for any person working at heights is fall safety. OSHA fall safety requirements for scissor lifts are very simple, but many believe they are too simple.
Many scissor lifts are capable of lifting a worker 60+ feet off the ground. A fall from the maximum height of any ariel platform will lead to injury, and in the case of a 60ft scissor lift, it will almost certainly result in death. Generally speaking, scissor lifts are considered very safe, but accidents do happen.
Many claim that if the scissor lift operator is properly trained and follows procedure, it's virtually impossible to cause an injury or accident. This massive claim does not take into account the countless factors on any job site that pose a lethal risk to any worker operating at heights. We'll get into that later.
Scissor Lift Safety Requirement
OSHA's general requirements for fall protection state that employers must provide fall protection for employees working at heights of four feet or higher in general industry, and six feet or higher in the construction industry. When it comes to specific requirements for scissor lift usage, OSHA states that fall protection must be provided for employees when working on the elevated platform of a scissor lift. This includes using personal fall arrest systems or guardrails. Employers are also responsible for ensuring that scissor lift equipment is inspected before use and that proper maintenance is performed to keep the equipment in good working condition.
In addition to the general and specific requirements for fall protection on scissor lifts, OSHA also requires employers to provide fall protection training for their employees. This training must include information on the correct usage of fall protection equipment, as well as information on the hazards associated with working at heights. Employers are also responsible for maintaining documentation of employee training, including the date of training, the names of employees trained, and the type of training provided.
Different types of Fall Protection for Scissor Lifts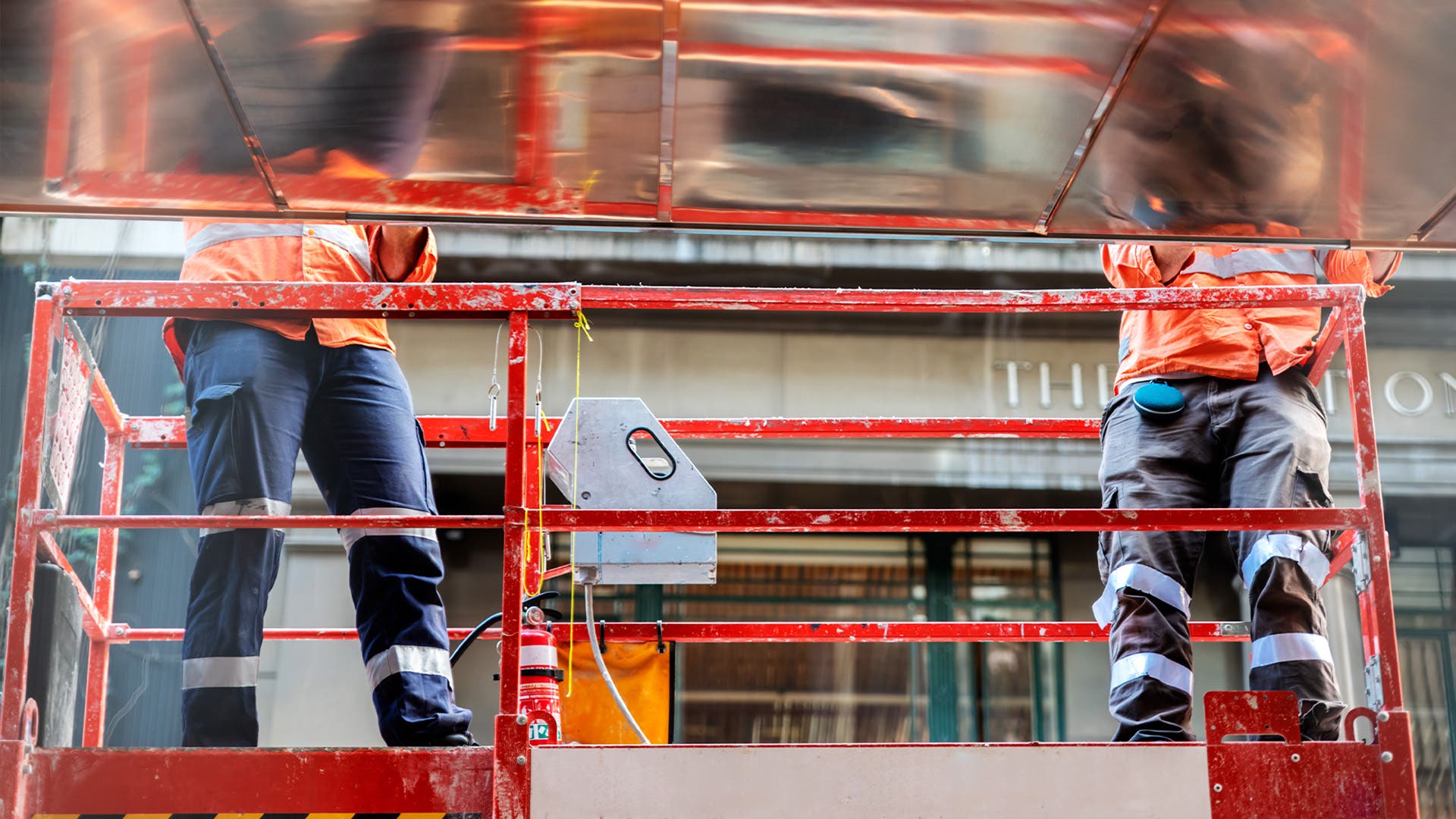 Fall protection for scissor lifts is simple. As previously mentioned, one of the following systems needs to be utilized: guardrails or fall arrest.
Guardrails
Most scissor lifts come outfitted with guardrails. As long as the lift has guardrails around the full perimeter of the platform and they meet the required OSHA specification, you're all set. That is technically all of the fall protection a worker requires. Even on specialty scissor lifts that can reach heights of 100+ feet, the only fall safety requirement is a 35"- 45" high guardrail to keep the worker from falling.
This is where many in the industry disagree. OSHA requirements are the bare minimum safety standards, and everyone should strive far above the bare minimum, but many argue that in this case, the bare minimum is too low. At certain heights, workers should be required to wear a personal fall arrest system in addition to the guardrail system. Many companies have added requirements that workers need to utilize additional fall protection when on a scissor lift.
Fall Arrest
A personal fall arrest system (PFAS) includes a full-body harness, a lanyard/lifeline, and an anchor that are used together to arrest a fall and prevent the worker from hitting the ground. Personal fall arrest systems are highly effective in preventing injuries and fatalities in the event of a fall. Most scissor lifts come equipped with anchor points. A worker would need to wear a full-body harness, and connect the harness to the anchor point with a fall lanyard or an SRD. Learn more about SRDs and retractables.
Some jobs require some of the guardrails on the scissor lift to be removed, specifically in situations where a worker needs open access off one of the sides. In this case, OSHA does require the use of a personal fall arrest system in addition to the remaining guardrails in place.
The reason why there is so much debate over OSHA's lax standards on scissor lift fall safety is that there are many reported cases of workers being ejected from the lift for various reasons. Workers are often injured and many die. The OSHA website has an accident log that you can look through and see for yourself. A good example is an OSHA case from 2021, where a worker was moving a scissor lift and drove over an unmarked hole covered in plywood. The weight of the lift broke the plywood, tipped the lift, and ejected the worker, who fell to his death.
Scissor Lift Best Practices
One of the most important best practices for fall protection on scissor lifts is performing pre-use inspections. Before using a scissor lift, employers should inspect the equipment to ensure that it is in good working condition. This includes checking for any damage, wear and tear, and ensuring that all safety features are working properly. By performing pre-use inspections, employers can ensure that their workers are using equipment that is safe and in good working condition.
Proper usage and operation of scissor lifts are also crucial for fall protection. Employers should ensure that their workers are properly trained on the correct usage of the equipment, including how to safely move around the platform and how to properly use fall protection equipment. Workers should also be aware of the hazards associated with working at heights and be trained to identify and avoid them.
We shouldn't have to say this, but regular maintenance is also an essential best practice for fall protection on scissor lifts. Employers should ensure that the equipment is serviced and maintained on a regular basis to keep it in good working condition. This includes inspecting and replacing worn or damaged parts. Regular maintenance can help prevent accidents and injuries by identifying and fixing potential problems before they occur.
Employers should implement safety protocols and procedures for working with scissor lifts that go beyond the OSHA requirements. This includes having emergency procedures in place in case of an accident or incident, as well as providing proper signage and warning labels to remind workers of the potential hazards. This will ensure that workers are aware of the potential hazards and are aware of what to do in case of an emergency.
Safety Standards for Scissor Lifts
It's important to not only understand OSHA requirements but also the industry standards. Industry standards are established by organizations such as the American National Standards Institute (ANSI) and the International Standards Organization (ISO). These standards provide additional guidelines and recommendations for fall protection on scissor lifts beyond what is required by OSHA.
ANSI Standard
One industry standard that is relevant to fall protection on scissor lifts is ANSI A92.20-2018, which covers the design, construction, testing, and maintenance of mobile elevating work platforms. This standard includes specific requirements for fall protection on scissor lifts, such as the requirement for guardrails to be in place when the platform is elevated and the requirement for personal fall arrest system anchors on the platform.
ISO Standard
Another industry standard that is relevant to fall protection on scissor lifts is ISO 12100-1:2010, which covers the safety of machinery. This standard includes requirements for the design and construction of scissor lifts to ensure that they are safe to use. This includes required specifications for fall protection systems and supports.
How Can PowerPak Help?
Here at PowerPak, we aren't in the business of selling scissor lifts. This is a topic of discussion for us because we are a safety company and our goal is to ensure that workers and companies have fast access to the safety equipment they need.
Waiting 2-3 weeks for a safety harness or fall protection device will only lead to workers proceeding without the needed equipment.
PowerPak is built on 4 basic pillars. We deliver as fast as we can, shipment orders often go out the same day, and if you are within our delivery range, your order will be loaded into a PowerPak van o truck and brought to you, usually within a day.
No backorders. If you see a product in our buyer's guide, it's on our shelves. We keep an inventory on hand of all of our products to eliminate any delays in your order.
30-minute response time. It doesn't matter how you contact us, by phone, email, or chat, we will respond to you as quickly as possible. No need to wait 24 hours just to place an order.
Lastly, we are leaders in the utility and infrastructure industry. We have over three decades of experience keeping workers safe.