*Disclaimer*
The information contained on this page is for promotional and informational purposes only. All equipment should be used by trained professional tradesmen who have been trained how to use the equipment described on this page, and understand the risks of their work. PowerPak assumes no responsibility for errors or omissions in the use or misuse of any product purchased. In no event shall PowerPak be liable for any direct, special, indirect, consequential, or incidental damages or any damages whatsoever, whether in an action of contract, negligence or other torts, arising out of or in connection with the use of this information or the contents of this page. PowerPak reserves the right to make additions, deletions, or modifications to the contents on this page at any time without prior notice.

Table of Contents
It's everyone's favorite tool to watch and least favorite tool to hear. The jackhammer is one of the most iconic construction industry tools. Watching a road crew demolish stretches of sidewalk or roadway with a jackhammer is always an addictive sight. It's tough to stop watching.
They're powerful, heavy, dangerous pieces of equipment. In the wrong hands, they could do a lot of damage. Well, I guess in the right hands, they SHOULD do a lot of damage, but you know what I mean. With any tool that produces this much force and power, proper precaution, planning, and safety measures must be taken before use.
So, before you get hammering, let's go over some of the basics.
Choosing the Right Type of Jackhammer
Picking the right type of jackhammer is not that hard. Each type of jackhammer has limitations, and you just need to pick the option with limitations that don't affect your project. We cover the four types of jackhammers: Pneumatic (air powered), Hydraulic, Electric, and Gas Powered.

Pneumatic jackhammers are a great place to start because it's what we see most often on utility and infrastructure jobs. You need a compressed air source and an air hose to operate these jackhammers.

We offer a

90lb Pneumatic Jackhammer

. These are popular because they are reliable, comparably lightweight, and powerful. To operate one of these, you need a compressor capable of outputting a minimum of 90 PSI. Most of the time, you'll see workers using a tow behind compressor to operate a range of air-powered tools.

The downside to a pneumatic jackhammer is that you are tethered with the hose. Most air hoses are 50ft or 100ft. If you're connected to a tow behind compressor, and your work goes beyond your hose, you'll need to move the truck and compressor. Worse yet, if you can't get the compressor close enough, you might just be out of luck.

Hydraulic jackhammers are similar to pneumatic. You've got the jackhammer connected to a hydraulic pump with a hose. You can find hand-operated hydraulic jackhammers, but for the most part, these are a more popular option for excavating equipment that already has hydraulic lines.

In addition to the limitations of the pneumatic jackhammer, hydraulic jackhammers have a couple more downsides. First, they tend to be heavier. Jackhammers are heavy tools. Adding a fluid-powered system doesn't help. The bigger issue is stand-alone hydraulic pumps aren't as readily available as air compressors. Often a Jobsite will already have an air compressor for all the other tools. With a hydraulic jackhammer, you will likely need to bring a pump just for that tool.

Electric jackhammers are quickly growing in popularity. With the rapid progress in electric motor technology, these jackhammers can now match the power of all the other jackhammer options while remaining lightweight and quieter. We predict in the coming years, we will see more and more manufacturers pushing electric jackhammer options.

There isn't much to explain with electric jackhammers. They operate the same as any other plug-in power tool. You need a power source which could include a generator or AC outlet. As you can imagine, the big limitation revolves around being tethered to that power cord. If you're plugged into a tow-behind generator, you're in the same predicament as the pneumatic jackhammer.

Gas-powered jackhammers break the mold. This is the only jackhammer option that is not tethered to a stationary power source. Gas-powered units operate completely independently and produce as much power as any other option. Sounds perfect, right?

Not so fast. Having an onboard gas tank makes these jackhammers one of the heavier options. And although gas-powered jackhammers aren't tethered, they aren't exactly a "go anywhere" option. Gas motors produce exhaust, so you can't use these on indoor projects or in

confined spaces

.

And, of course, gas-powered jackhammers are loud. All jackhammers are loud by nature, but the addition of an onboard engine pushes the loudness factor to a new level.

So, picking the type of jackhammer is pretty easy. You just need to ask yourself if you will work indoors vs. outdoors and what power sources are available.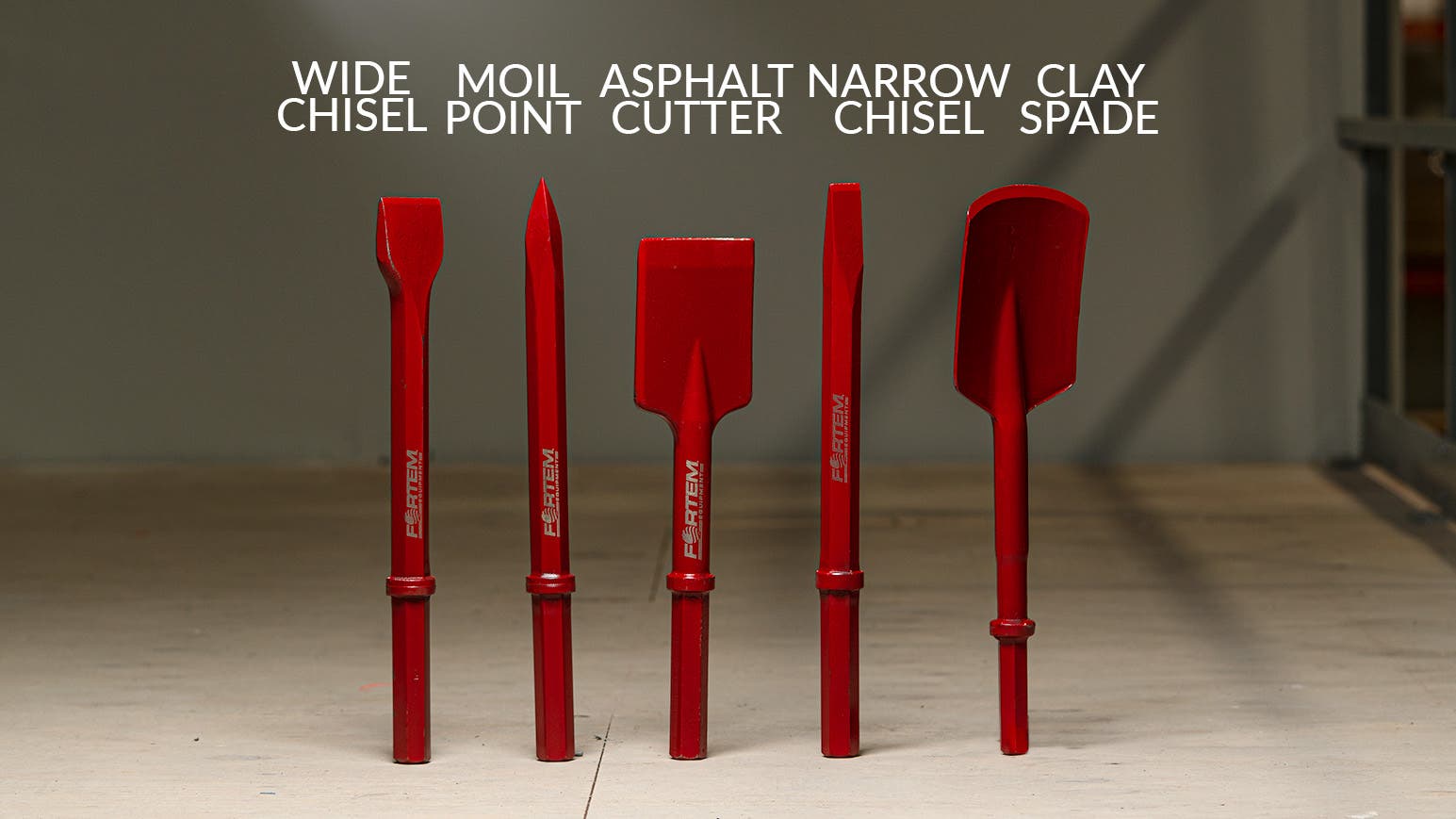 Choosing the Right Bit for the Project
If you've picked your type of jackhammer and the specific jackhammer model you'll be using, the next thing you will need to do is figure out the size of the jackhammer shank. The shank size will usually be indicated somewhere on the jackhammer. If not, you can look up the make and model.

At PowerPak, we primarily carry

1-1/4" bits

and

1-1/8" bits

. Those are two very common shank/bit sizes for construction-sized jackhammers. Once you've established your bit size, you'll need to choose a type of jackhammer bit. There is a large variety of jackhammer bits; we will focus on the options common in utility and infrastructure work.

When people think of jackhammers, they think of demolishing concrete, pavement, rocks, and many other surfaces. Not every jackhammer bit is made for demolishing. If you set out to break some hard surfaces into removable pieces, you will need a chisel bit, and there is more than one type of

chisel bit

.

Moil point chisel bits are the go-to option for a lot of workers. These chisels come to a single point, like a spear, and are great at directing the full force of the jackhammer into a small area, giving it optimal braking power. They are simple in construction and very durable.

Narrow chisel bits come to a flat point, reminiscent of an actual chisel. The force is distributed to a wider area than the moil point chisels, allowing the worker to break apart bigger chunks and giving a little more control.

Wide chisel bits are what they sound like. It's the same as a narrow chisel but wider. Workers often use the wide base of these chisels to push and pry broken rumble out of the way. Obviously, care needs to be taken when using a bit for prying because bits can break.

Another application for jackhammers is for cutting into asphalt surfaces. This is common for utility workers that need to access buried utilities under roadways. They will use a jackhammer to cut a straight line around the buried utility, then break up the asphalt over the utility and dig it up. The jackhammered line prevents unnecessary damage and limits the amount of roadway that needs to be repaired after the utility work is complete.
Comments
Leave your comment
Your email address will not be published