*Disclaimer*
The information contained on this page is for promotional and informational purposes only. All equipment should be used by trained professional tradesmen who have been trained how to use the equipment described on this page, and understand the risks of their work. PowerPak assumes no responsibility for errors or omissions in the use or misuse of any product purchased. In no event shall PowerPak be liable for any direct, special, indirect, consequential, or incidental damages or any damages whatsoever, whether in an action of contract, negligence or other torts, arising out of or in connection with the use of this information or the contents of this page. PowerPak reserves the right to make additions, deletions, or modifications to the contents on this page at any time without prior notice.

In today's market,
we're spoiled with glove options
. There seems to be an infinite number of options on the market. You can get cut-resistant fabric, impact rated, palm dipped, vibration dampening, etc. You can get them all, or you can pick and choose what options you want.
Remember before all this new glove technology? You had two choices, leather gloves or not leather gloves. If you were serious about your work, you better believe you had the leather option.
Okay, fine, I'm oversimplifying the way things were. It wasn't exactly like that, but one thing is for sure, we have a lot more options now. Despite all of these new glove options, leather isn't going anywhere. It's still a very popular option and is still needed in many applications. This is not an "out with the old, in with the new" situation.
Leather gloves have adapted to the times and are here to stay. So, let's break it down so we can all buy the right pair.
Why Leather?
Most workers want a few basics from their work gloves. They want them to be comfortable enough that they don't have to keep taking them off, and they don't want them to rip or fall apart in minutes.
Durability and comfort are the reason 
leather work gloves
have been a popular choice for generations. Not all leather gloves are the same. You can get gloves made of different animal hides, different parts of the same hide, different styles and shaped gloves, and gloves with added features. In some cases, leather also offers protection from chemicals, heat, and water.
Picking The Right Glove
When picking the right pair of gloves, workers should consider what kind of grip they want on their hands while wearing the gloves. There are two types of grips: palm grip, which provides better dexterity, and fingertip grip, which offers more stability when handling heavy objects or tools.
Workers should also ensure that their gloves fit their hands properly so they do not restrict movement or cause discomfort during use.
There are four crucial features that you need to consider when buying a pair of work gloves:
Material
The material used in making a pair of work gloves can make or break its quality and durability. Leather is one such material that provides great protection against abrasion, chemicals, and heat. It also has good elasticity and breathability, making it comfortable to wear for extended periods.
Padding
Soft, thick padding can protect your hands against accidental damage. It also provides comfort and support to the wearer's hands.
Lining
The lining of a pair of work gloves should protect your hand from dangerous substances like chemicals and heat as well. It should have good breathability because it will let air flow in and out, which prevents sweat from building up in your gloves.
Fit
A good leather glove should fit snugly and not allow any excess material that may get caught on machinery or cause an injury. The fit may be difficult to determine during a purchase, but you can use a simple test: put your hand inside the glove and try bending your fingers at the knuckles. If you can't do this without the glove slipping, it's too big.
Leather Grains and What They Mean
Leather products are ideal for workers because they are more durable, flexible, and stronger than other materials. Leather gloves come in many types, and each has its characteristics. Deerskin, goatskin, pigskin, and cowhide are some types of leather materials that are the most common in making gloves.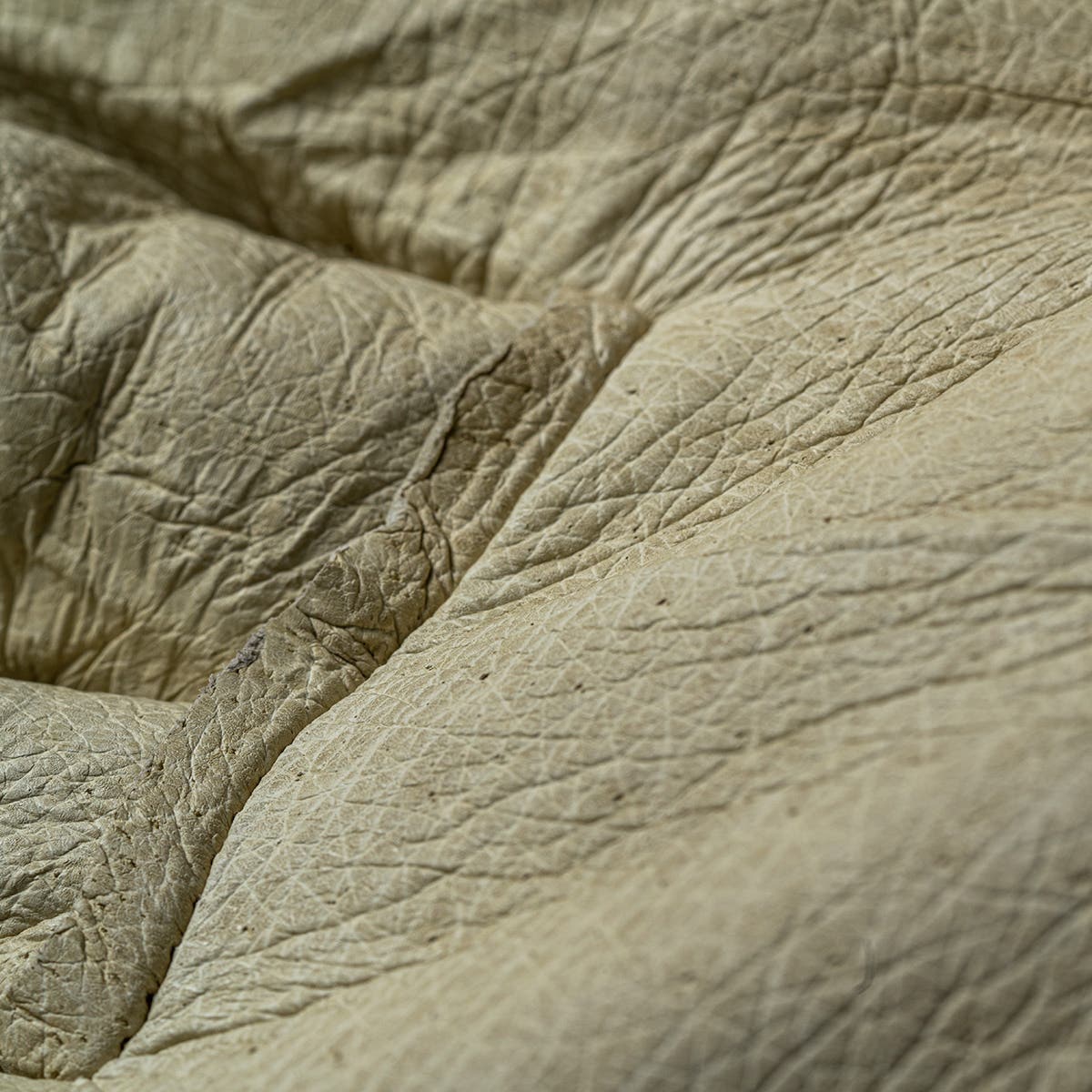 The type of leather can help you determine the cost and thickness of the leather. Leather comes in different grains:
Top-grain
Top-grain leather is a type of leather that has been sanded and refinished. Top-grain leather is found in the upper part of the hide, where it is split to show the surface of the grain.
Full-grain
Full-grain leather comes from the skin's top layer, but is tanned without sanding or refinishing. Full-grain is considered a high-quality and durable leather option.
Bonded leather
This type of faux leather is made up of scraps and fibers left over during genuine leather manufacturing. These scraps are molded together using adhesives to make a paper-like substance, then cut into sheets and covered with a polyurethane binder. A polyurethane coating is added and embossed to create the leather feel of real leather. Bonded leather only contains around 10% genuine, unadulterated cowhide.
Synthetic leather
Synthetic leather is made with a thermoplastic polymer that is cheaper to produce. It has a less porous surface than genuine leather, making it easier to clean and maintain. Synthetic leather also has more elasticity, which means it can be cut into different shapes and sizes. But there are also some disadvantages: since synthetic leather does not have pores like genuine leather, it cannot breathe.
Leather Glove Materials and Their Best Use Cases
Today's high-quality leather comes in all shapes and sizes at various prices. It can be confusing to know what is best for your needs. The type of leather you select is relative to your budget and the kind of use it will receive.
Cut resistance measures how well a glove lining protects the wearer from cuts. The higher the cut resistance rating, the more protection it provides. Glove linings are measured using A1 to A9 based on the
ANSI/ISEA 105-2016 standard
.
A 
cut-resistant glove
 lining has a cut-resistance rating (CR) determined by a testing method set by the American National Standards Institute (ANSI). The CR is based on how many kilograms (kg) of weight can be applied to the glove lining without cutting through it. The higher the
cut resistance rating
, the more protection it provides against safety hazards at work or home.
Leather Glove Cuff Types and Their Uses
A cuff is a ring of leather or other material sewn onto the glove to protect the wrist or to extend its length. There are four types of cuffs: knit cuff, safety, slip-on, and gauntlet. Cuffs are a protective measure for the wrist and also lengthen the glove.
Knit cuff
A knit cuff is a simple length of fabric sewn into a tube and then joined to the glove at one end.
Safety cuff
A safety cuff is made by attaching two or more lengths of fabric at the far edge of the cuff. This cuff will not tighten on your wrist unless you pull on it.
Slip-on cuff
Cuffs that slip onto the wrist are called slip-on cuffs. These cuffs are made from two pieces of leather sewn together with an opening for the hand and are often unfinished.
Gauntlet
This cuff goes over the wrist and up to the elbow. It is often used in heavy-duty work environments, such as construction sites and factories.
Leather Glove Thumb Types and Their Uses
The thumb is undoubtedly one of the most significant digits in your hand because it grips and picks up objects. A good pair of gloves should have a thumb that has a type that suits your needs.
Straight thumb
This thumb is found on gloves used for work, such as leather work gloves. The seam thumb is at the top of the glove and can be used to pick up small objects. Designed for non-rigorous activities. They are the least effective because they do not allow for natural thumb motion, but they are the most economical style because they require little stitching.
Wing thumb
The design of these gloves allows for greater flexibility and efficiency when using your thumb - often good for pushing or pulling. You see this in mid-priced gloves, which can be worn for extended periods.
Keystone thumb
Excellent for tasks that require increased wear and tear on the thumb webbing, such as pulling wires or handling small pipes. The most expensive option because of the extensive sewing and weaving required.
Leather Palm Gloves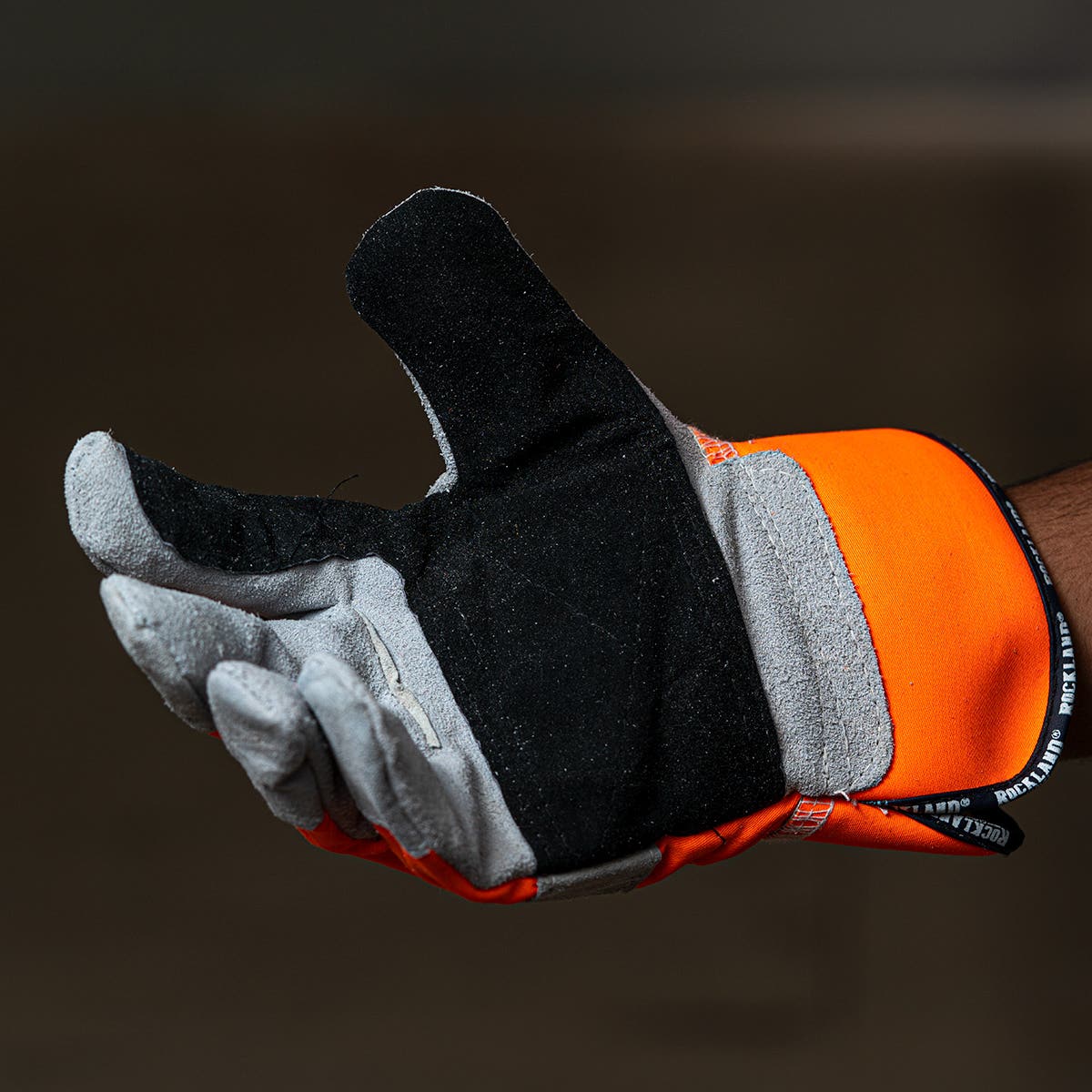 If there weren't already enough leather work glove options, you can take it a step further and shop for
leather palm gloves
. These are exactly what they sound like, the palms are made of leather, and the backs are made of fabric. This helps make the gloves more breathable and lighter and usually costs less.
Leather palm gloves tend to be more cumbersome and making them less popular for jobs that require aceturate dexterity. Trying to pick up a small screw off the ground with a leather palm glove is as hopeless as playing the "claw game."
How to Choose the Right Pair of Work Gloves for My Needs?
Choosing the right pair of gloves for your needs is not easy. There are so many options and so many added features. There are a lot of different factors that you need to take into consideration.
The type of work will determine the type of glove that you should be buying. If your work involves heavy lifting, then you should have thicker gloves with more protection around the palm and fingers. If your work involves more precision, then you should have thinner gloves with less protection around the palm and fingers.
The material you are working with will also determine the type of glove that suits your needs. For example, a heavier leather glove would be better suited for the job if you are working with wire or metal.
The next step would be to determine what size gloves would fit the wearer's hand. For example, if someone has large hands and needs leather work gloves, they should look for something like an XXL or XL glove.
Men's Work Glove Sizes Chart:
S - 7-7.5" M - 8-8.5" L - 9-9.5" XL - 10-10.5" XXL - 11- 11.5"
Women's Work Glove Sizes Chart:
S - 6-6.5" M - 7-7.5" L - 8-8.5" XL - 9-9.5" XXL - 10-10.5 "
Tips for Finding the Perfect Pair of Leather Work Gloves
A few tips before we wrap this up; 
leather driving gloves
 are not only for driving. They provide superior grip, protection, and warmth in cold environments and are used in various settings, such as construction, manufacturing, forestry, farming, and more.
If you are doing a lot of heavy lifting, you should go with a glove with thicker padding on the palm and fingers.
If you are using your hands for precision tasks, you should go with a thinner glove made of leather.
If your hands are prone to sweating or getting wet, you should look for a glove with moisture-wicking properties.
There are many types of gloves to choose from, including the right fit and the right glove for you. The company is committed to producing high-quality products that are durable, comfortable, and affordable. To ensure they get it right, they have a team of experts who do everything from designing the gloves to manufacturing them.