Philadelphia Delivery Service Areas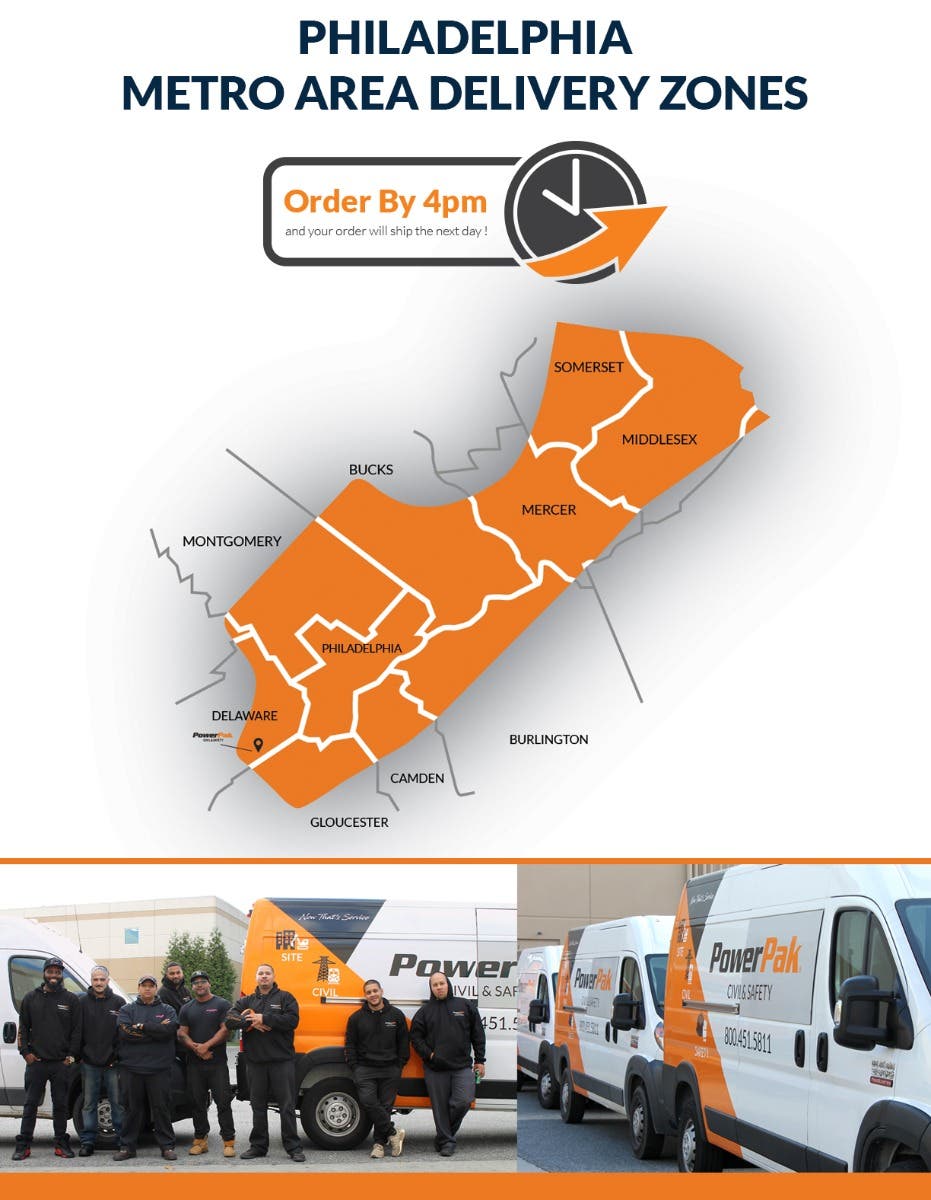 Construction Safety Supplier in the Philadelphia Metro Area
When you're in charge of a construction crew, it's your responsibility to make sure your team members have the protective equipment necessary to keep them safe on the job. You also have to ensure your jobsite has the requisite signage to clearly identify your work area. Making sure your team has the supplies and tools required to get the job at hand done in a safe, timely manner is also a top priority.
A well-equipped crew and jobsite coupled with a clearly marked work area will go a long way toward keeping your team safe and the job on track. These things will also minimize the chances that onlookers and passersby will be involved in an accident that could result in costly litigation. They can also help you avoid fines by ensuring you're in compliance with relevant regulations. With so much on the line, speed is of the essence when you need protective equipment, signage, water-filled barriers and other supplies and tools.
Get Construction Safety Equipment With Fast Shipping
To best serve the needs and expectations of our customers throughout New York, Even if you prepared for your Philadelphia metro area project months in advance, it doesn't mean you won't need supplies while the job is ongoing. Whenever you need equipment, tools, signage or protective gear, you can count on PowerPak Civil & Safety. You can rely on our family-owned and operated business for more than "just" supplies. You can also count on us for fast deliveries to your Philly metro location.
Our motto is, "If it's in the book, it's on the shelf," meaning what you see in our catalog is in stock and ready to ship. Our Philly deliveries operate in accordance with our 4/10 delivery "rule." This guideline dictates that customers who place orders or supplies or gear after 10 a.m. but before 4 p.m., we'll deliver your supplies by 10 a.m. the next morning.
We know every moment that goes by without your crew or jobsite being equipped appropriately puts people at risk and negatively influences your ability to get your project done on time. For more than 20 years, general contractors, civil engineers and other professionals have turned to PowerPak Civil & Safety for the high-quality, durable supplies they need as early as today, and we encourage you to do the same.
Order Your Safety Supplies Today
Shop online now to have protective gear, signage, supplies and tools delivered to your Philadelphia metro area job site today or tomorrow depending on when you place your order. For assistance with finding the things you need, work one-on-one with a knowledgeable representative by calling us at 800-451-5811. We look forward to fulfilling your order soon!