Safety vests are required in a wide range of situations. From road work, tow truck drivers, construction sites, manufacturing facilities, logistic workers, and the list goes on. The purpose of these vest is simply to increase the visibility of the wearer and help prevent them from getting hit by moving machines, like cars, forklifts, and other vehicles.
The combination of vibrant colors and reflective tape is designed to catch the eye of the machine operator or driver. None of this is a surprise. You likely deduced this on your own.
The bigger question is when do you need to wear a safety vest and which vest do you need? If you are here looking for a specific answer to those questions, the best we can tell you is to check with your company. In most cases, the company vest requirements exceed the minimum requirement, and to correctly comply, you'll need to know the companies policy on safety vests.
That's probably not the answer you wanted. To make it up to you, we'll go over the basics of safety vests, so that if you company says something like, "You'll need a Type R, Class 2 vest with a d-ring slot and an ID pocket", you'll know what they are talking about.
Construction Safety Vest Requirements and Guidelines
OSHA takes the lead on construction safety. OSHA (Occupational Safety and Health Administration) is the federal agency responsible for setting standards for workplace safety in the US. In terms of construction safety, OSHA requires workers to wear high-visibility clothing that meets the standards of the ANSI/ISEA 107-2015 standard. This standard outlines the requirements for color, reflectivity, and the amount of background and retroreflective material needed to ensure maximum visibility on the job site.
Classes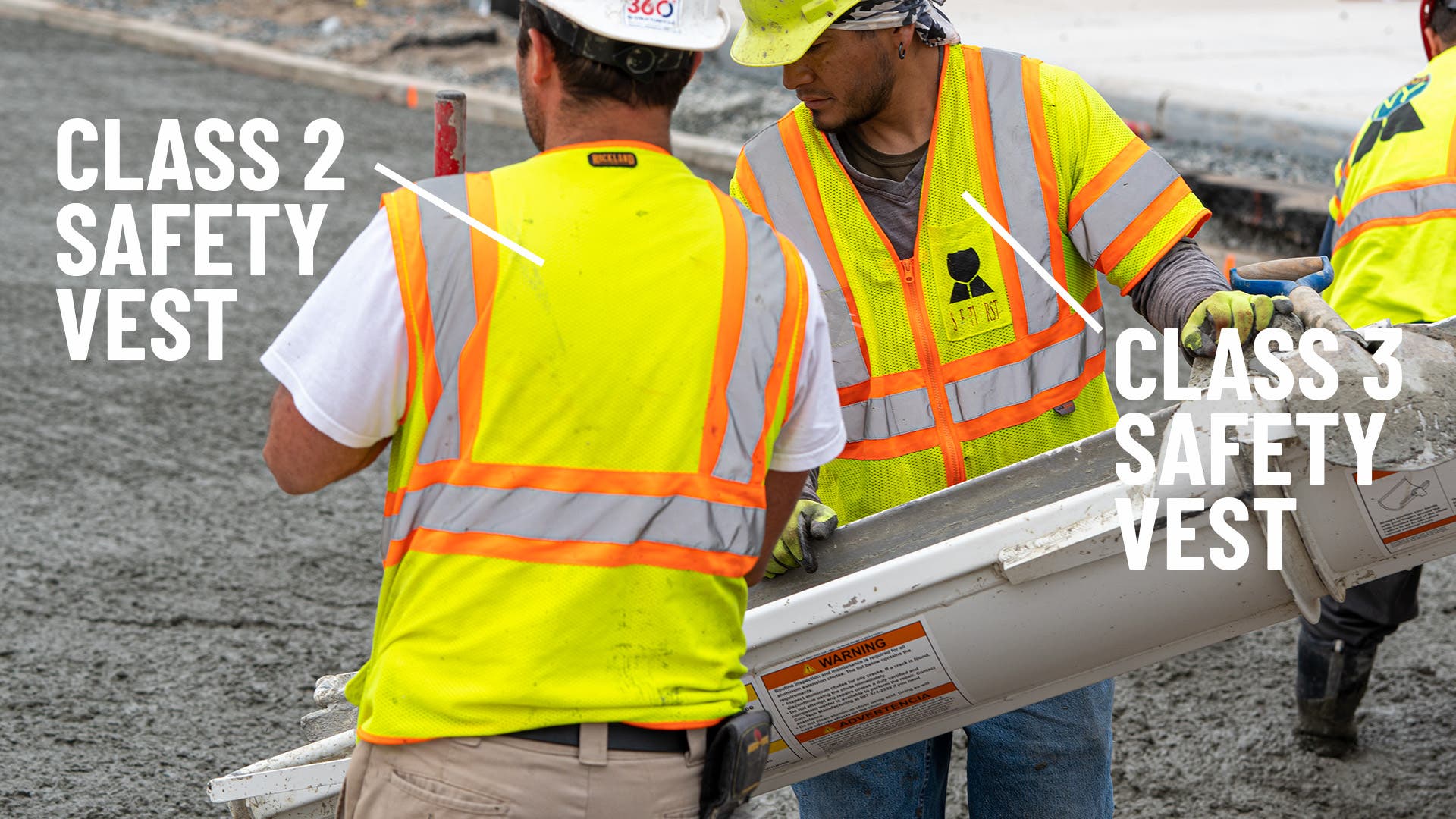 Safety vests come in different "classes," each with its own set of requirements to meet the demands of various work environments. Class 1 vests are the minimum standard for low-risk environments, while Class 3 vests offer the most visibility and are required for workers in high-risk environments, such as road construction. We put together an article that outlines
the differences between class 1, class and class 3 safety vests
.
Types
There are 3 types of safety vest. PowerPak only offers Type R vests, which are for roadway use. Type R vests can be Class 2 or Class 3. Type O vests are not suitable for roadway work, and type O vests only come in Class 1.
Type P vests are for emergency workers like police officers. These vests differ in design and functionality from Type R , but still meet the same standards as class 2 and class 3.
Material Colors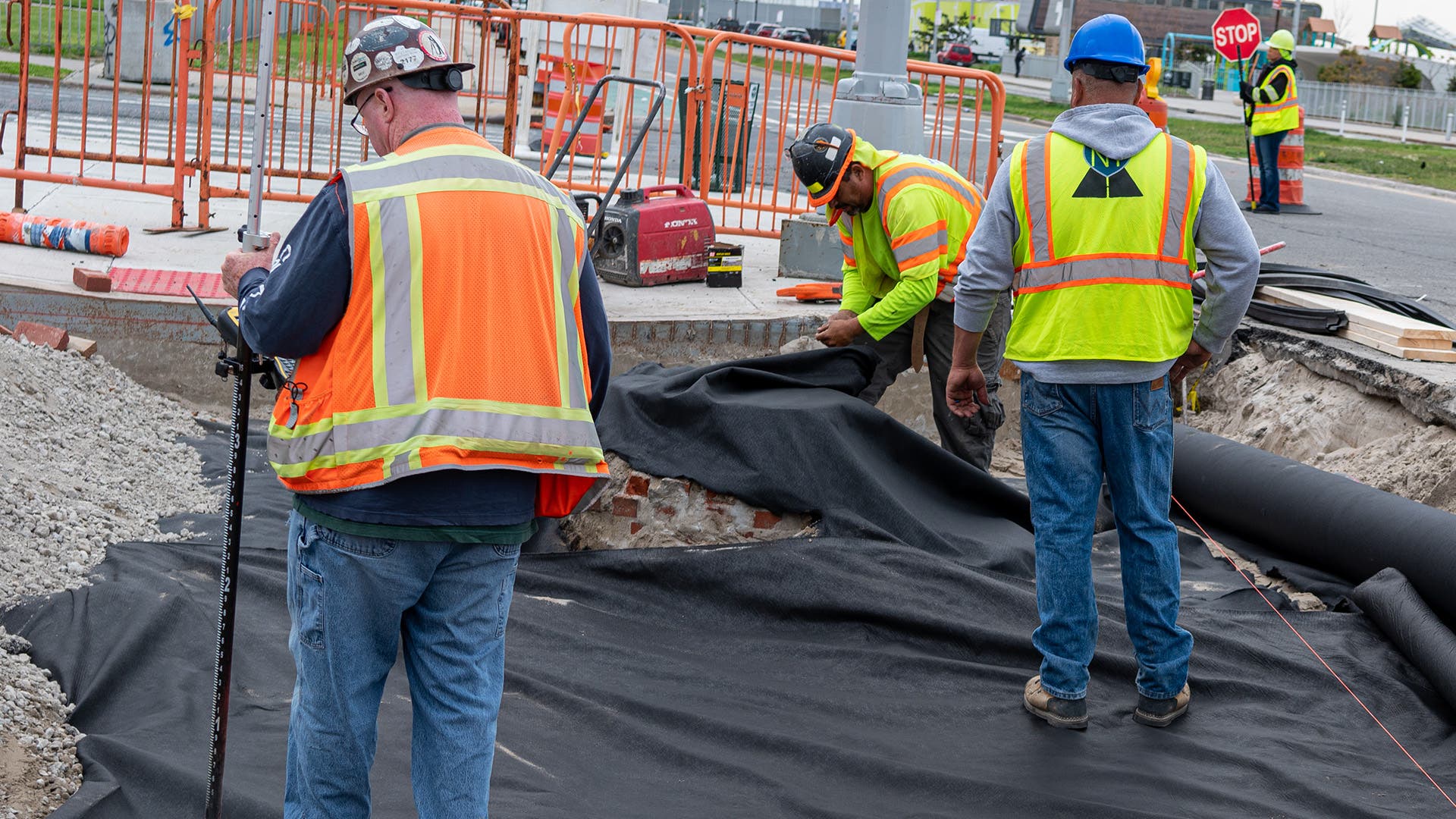 The ANSI/ISEA 107-2015 standard requires that safety vests be a bright, highly visible color, such as neon yellow or orange. This ensures that workers are easily visible on the job site, even from a distance. The standard also specifies the amount of background and retroreflective material required to maximize visibility in different lighting conditions.
Reflective Tape
Reflective tape is a key component of construction safety vests, helping to increase visibility in low-light conditions. The ANSI/ISEA 107-2015 standard requires a minimum amount of reflective tape for each class of vest, with Class 3 vests having the most reflective tape to ensure maximum visibility in high-risk environments.
We are using the term "reflective tape" because it's commonly understood, but most vest have retro-reflective tape. With reflective material, when light hits it, it bounces off at the same angle in the opposite direction. Retro-reflective tape is able to reflect the light back in the direction it came, making it a much more effective material for safety purposes. Retro-reflective tape is commonly used on safety vests, road barrels, traffic cones, and other road safety equipment.
With these guidelines in mind, workers can feel confident that they are wearing the right vest for their job, meeting all safety requirements, and keeping themselves visible and protected on the job site.
Picking the Right Safety Vest
The type of work you're doing on the job site will play a big role in determining which safety vest is right for you. If you are not in danger of being struck by a moving vehicle (over 25mph), and visibility from a distance is not needed, a class 1 vest might be okay. PowerPak doesn't sell any class 1 vests, because even in low-risk situations, it's better to opt to a class 2. Class 2 is good in situations where traffic is less than 50mph, and Class 3 offers the most visibility for traffic over 50mph.
Fabric and Material
The weather conditions you'll be working in will also impact your choice of safety vest. If you're working in hot and humid conditions, look for a vest made from breathable fabric to keep you comfortable. On hot summer days,
mesh safety vests
are very popular. If you're looking for a more durable options, you might want to opt for a
premium polyester safety vest
. And if your work requires flame-resistance or flame-retardant, you have a lot of option, but one of the most popular flame-resistant materials for safety vests is
modacrylic
.
Comfort and Features
Safety vests should be an aid, not a hinderance. Vest come with a wide range of features including radio tabs, d-ring slots,
gromets for dispensing flagging tape
and countless pocket options. You can get vests that have a pocket on the back for carrying a rolled up plan (plan pocket), pockets for holding spray cans, pockets with flaps, pockets with zippers, water proof pockets, breathable pockets, and clear breast pockets for display IDs. Most vest have tear away sections, so if the vest get pulled into a machine, it won't pull you with it.
Styles
We're not talking about coordinating your safety vest with your boots. Different style vests including hi-visibility vests, surveyor vests, and breakaway vests. Hi-visibility vests are the most common and offer maximum visibility with a bright color and reflective tape.
Surveyor vests
are designed for surveyors and engineers and typically have pockets for holding equipment. You job may require a specialty vest, like the
NYCTA Vest
. This vest meets specific requirements set by the New York City Transit Authority, and it required for all transit workers in the city.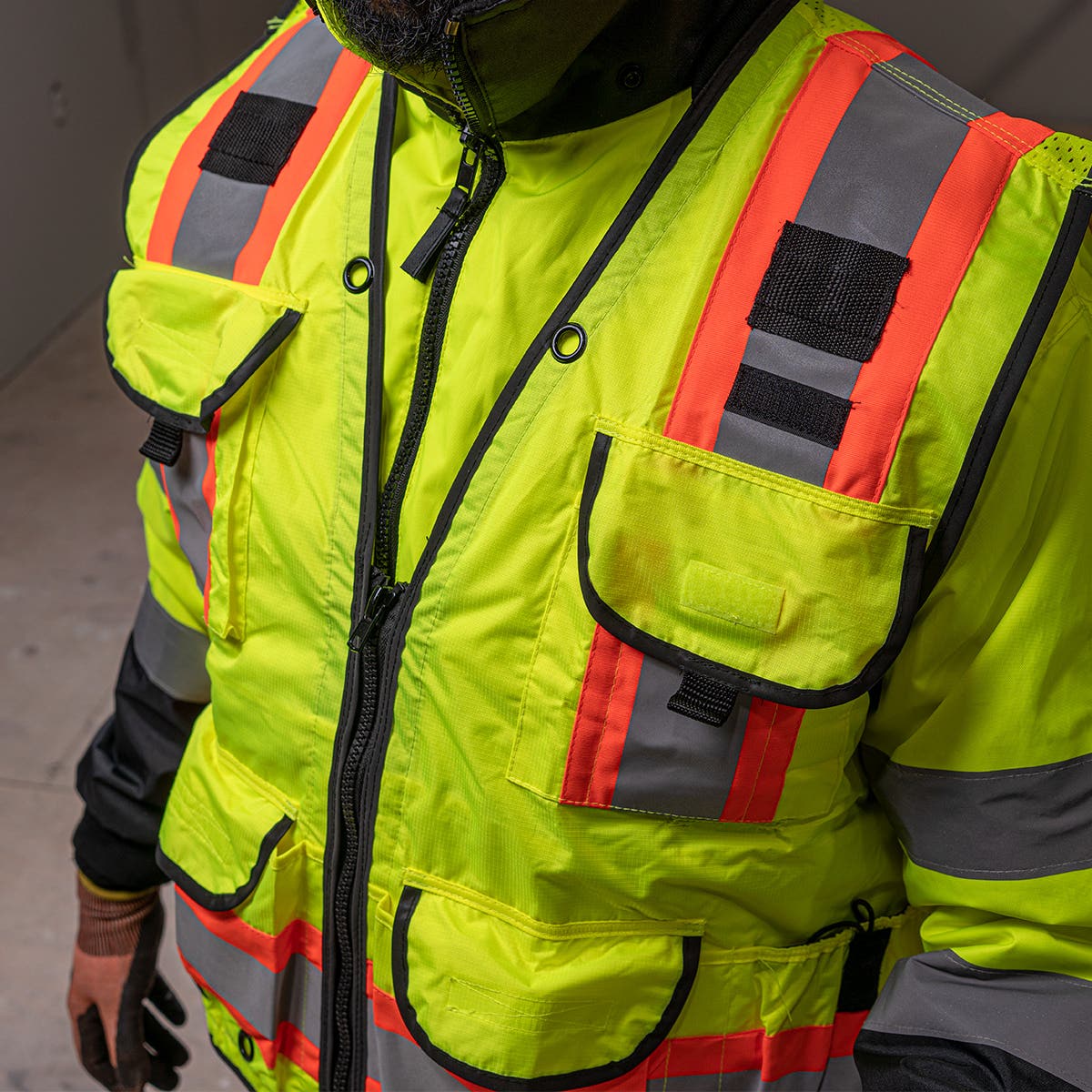 Proper Use and Care of Construction Safety Vests
Wearing a safety vest is more than just pulling on a piece of clothing. It's a crucial step in staying safe on the job site. To get the most out of your safety vest, make sure it fits securely and snugly on your body, with the bottom of the vest no higher than your waistline and the sides extending to your hips. The vest should also be easily visible and not covered by other clothing or equipment. That includes other safety equipment like fall harnesses. Fall harnesses should be worn under your vest, and the D-ring should be fed though the
D-ring slot on the back of the vest
.
A clean and well-maintained safety vest is crucial for visibility and safety on the job site. Follow the manufacturer's instructions for washing your vest, as some vests may be machine washable while others may need to be cleaned by hand. Make sure to air-dry the vest, as using a dryer may damage the reflective tape. Store the vest in a cool, dry place when not in use to ensure it stays in top shape for your next job.
If your vest is flame-retardant, there may be a note on thee tag with the maximum number of washes. If the vest exceeds that number, it is no longer considered flame-retardant. Flame-resistant vests will remain flame-resistant regardless of the number of time you wash them, so you can't use that an excuse not to wash your modacrylic vest.
PowerPak Safety
Wearing a safety vest is an essential part of working on a construction site. It sends a message that you take your safety and the safety of others seriously and are committed to doing your part to prevent accidents and injuries. By following these guidelines for proper use and care, you can be confident that you're doing all you can to stay safe on the job.
Visit PowerPak.net to check out the dozens of vest options we offer. We have vest in different sizes, colors, and feature combinations to suite your needs, but that's not a big deal, right? Everyone offers a huge selection of vests. The thing that sets PowerPak apart is our service. When you place an order, we get that order shipped out the same day/next day.
If you want your company logo printed on the back of your vests, we offer in-house printing with fast turnaround times. From the approval of the proof, we will have those vests printed within 48 hours. Your crew will have their new vests this week, not later this month. We keep a full inventory of our vest options in stock in all of our facilities across the U.S. to prevent any delays in shipping. Don't believe us? Try us, place an order today.