When people think of working at heights, they think of workers walking across the I-beams of the frame of a skyscraper, or a utility worker climbing a cell phone tower. These are both examples of working at heights, but a much more common occurrence involves working on scaffolding.
If you're using scaffolding on your jobs, it's important to take specific safety precautions to protect workers from falls. In this article, we'll cover some common scaffolding setups that companies and workers use. Then, we'll talk about scaffold fall protection requirements for each type.
How Do Scaffolding Accidents Happen?
• Plank failure
• Supports slipping out of place, causing a collapse
• Worker slips
• Failure to use fall protection
• Getting struck from above by a falling object
Safety and fall protection for scaffolding starts with selecting the right type of structure for the job, so that's where we'll begin.
Types of Scaffolding
Suspended Scaffolding
Selecting the Right Scaffolding for the Job
When selecting your scaffolding system, keep these safety criteria in mind:
• Firm Foundation: Make sure you can safely attach the system uprights to base plates and mud sills for supported systems
• Competent Person: Required to erect, inspect, move, alter, or dismantle the scaffolding
• Platform Criteria: Adjustable if necessary for safe working heights and provides adequate-sized working space for workers and materials
• Qualified Person: Consult a qualified person to help you choose the best type of scaffold for your project, weight limits, and structural requirements
Once you've picked the right type of scaffolding for the job, the next step is to get familiar with scaffold fall protection requirements.
Fall Protection on Scaffolding
Fall protection is required on scaffolding above a certain height. However, most scaffolds used on job sites are erected with some built-in fall protection measures. OSHA requires guardrails (at 38-45"), mid rails, and toeboards on scaffolds with platform heights above the safety threshold.
Suspension scaffolds are a different ballgame because they require redundancy. Workers on suspended scaffolding must use both guardrails plus personal fall protection.
At What Height is Fall Protection Required on Scaffolds?
The fall protection rule in construction is widely known to be six feet; meaning you'll need to implement fall protection if there's a fall risk greater than six feet.
Learn more about fall protection compliance in our guides:
Scaffold Fall Protection Requirements by Type
Each type of scaffolding is subject to its own OSHA rules to protect workers from falls. Below is a quick overview of some fall prevention measures to keep in mind when using these popular scaffold types.
Swing Stage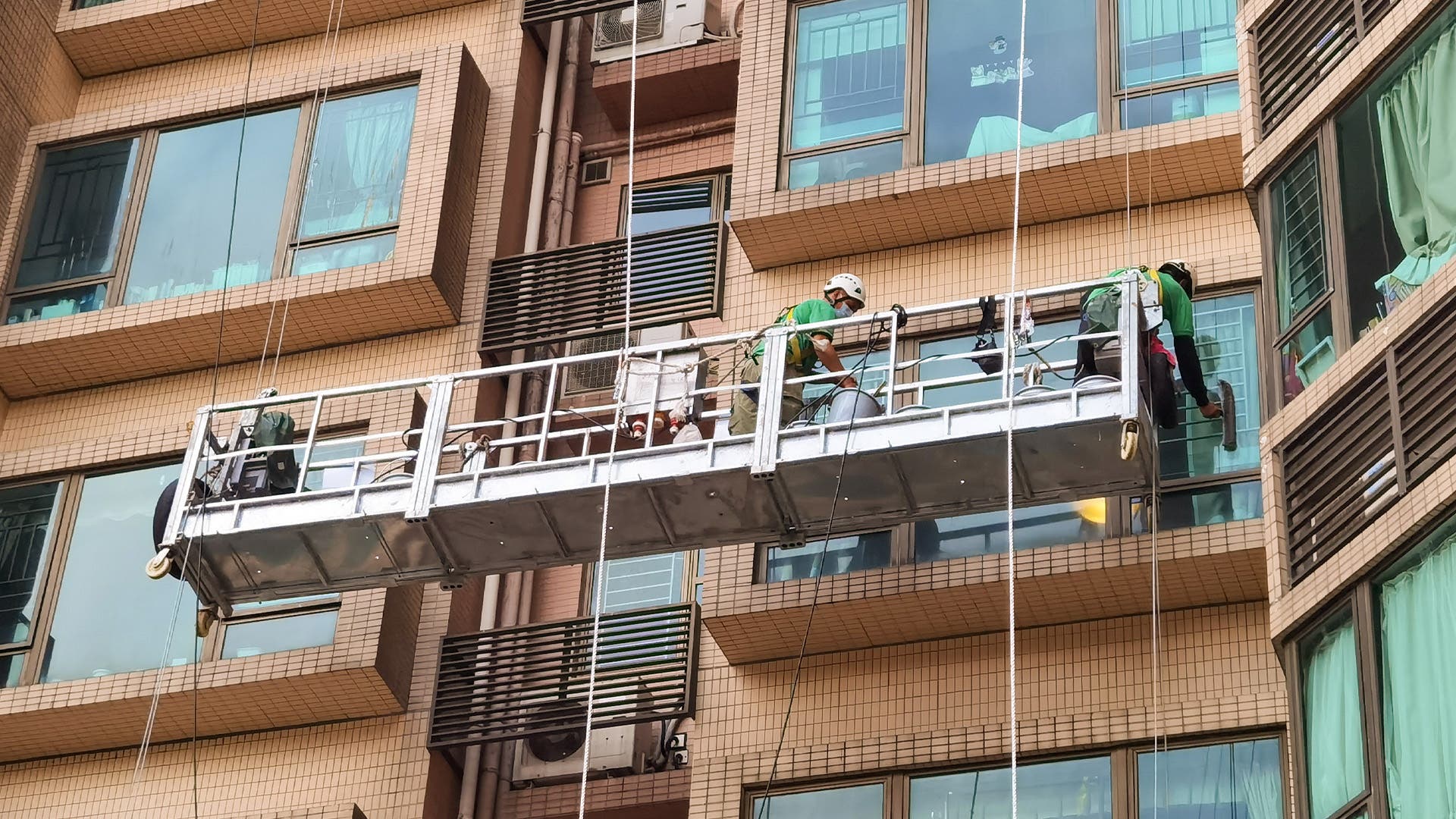 The suspension-type scaffolding system requires the use of guardrails AND a personal fall arrest system(PFAS). Ideally, the PFAS system is connected via vertical lifelines. These lifelines need to be connected to an anchor point that is separate from the scaffolding support.
Many cases make it impractical for vertical lifelines to be used, in which case horizontal lifelines can be anchored to structural supports on the scaffolding. Because the PFAS system is connected directly to the scaffolding, the entire scaffold system needs to be connected to a fall arrest system designed to catch the entire scaffold and its occupants in the event of a fall or failure.
Baker's Scaffold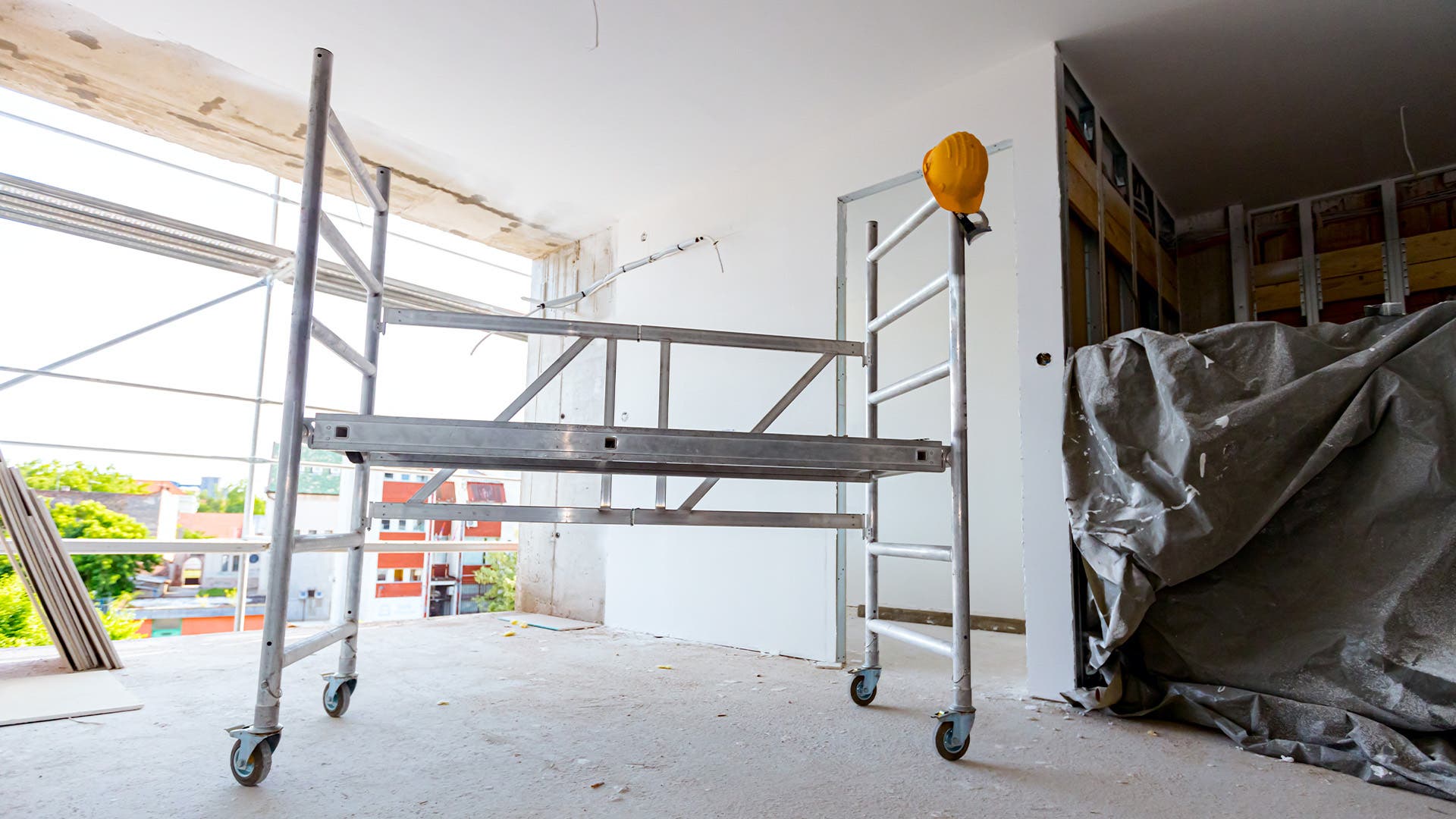 Baker's scaffolding is the type of scaffold you often see interior painters use. They are easily customizable, and sit on casters, allowing them to be rolled around. The mobility of this scaffolding eliminated the need to construct a much larger system.
Some basic rules when using baker's scaffolding include making sure the casters are locked before climbing up the scaffolding, ensuring the system is level, and making sure the workers are aware before the scaffolding is moved. Additionally, the platform cannot extend beyond the support. Many painters are tempted to construct an extended platform to give themselves some extra reach, but this will imbalance the scaffolding and can cause it to fall over.
Frame Scaffold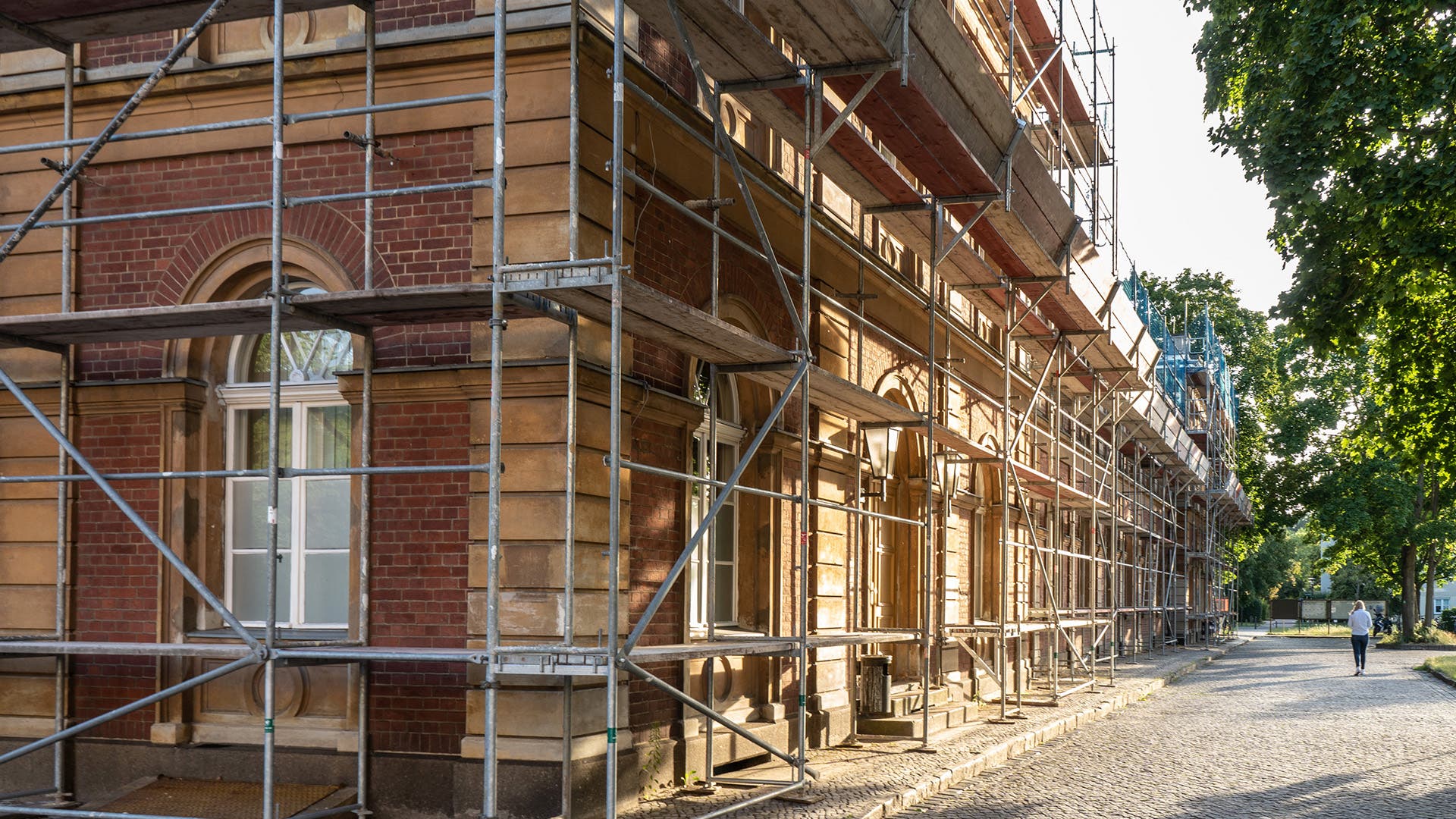 This supported scaffolding requires:
• Guardrails if over ten feet high working platform
• Alternative to guardrails, workers may use a fall arrest system
• Bricklayers must be protected from falling objects on sides and ends
• Vertical lifelines must be attached to a safe anchorage point independent of the scaffold
Inspecting Scaffold
Regular inspections are an important part of your scaffolding safety and fall prevention. They help you identify potential safety hazards before they cause injury or death. OSHA requires scaffolding to be erected under the supervision of a competent person and then to be reinspected often—as often as every shift or after any event that could disrupt the scaffold's structural integrity. A failed inspection deems the scaffold unsafe for use until it is repaired or replaced.
OSHA Fall Protection Scaffolding Checklist
• Sound footings at the foundation.
• No damaged parts (braces, brackets, trusses, screw legs, ladders, etc.).
• No alterations.
• Fully and tightly planked platforms.
• Proper scaffold plank-grade material.
• Immobilized planks or proper training for mobile scaffolds.
• No working in icy or snowy conditions, or if surfaces are otherwise slick.
• No work during high winds or inclement weather.
• Platforms are not overloaded with materials.
• Ropes are protected from heat (suspension).
• Use additional tethers when necessary to prevent swaying.
Use a checklist like this one to ensure your job's scaffolding systems are safe to use.
Training Requirements for Scaffold Workers
When workers are trained in scaffold safety, it reduces the risk of falls. OSHA requires training so contractors can recognize hazards and correct them to prevent an accident. In addition to scaffold safety fall precautions, employees need training in falling objects, electrical hazards, and material handling as it relates to working from a scaffold.
Scaffold Safety Distance from Electrical Lines
For insulated lines:
• Less than 300 volts: 3 feet distance required
• 300 volts up to 50 kV: 10 feet distance required
• More than 50 kV: 10 feet plus .4" per additional kV beyond 50
For uninsulated lines:
• Less than 50 kV: 10 feet distance required
• More than 50 kV: 10 feet plus .4" per additional kV beyond 5
Find OSHA-Approved Fall Protection Scaffolding Safety Gear at PowerPak