*Disclaimer*
The information contained on this page is for promotional and informational purposes only. All equipment should be used by trained professional tradesmen who have been trained how to use the equipment described on this page, and understand the risks of their work. PowerPak assumes no responsibility for errors or omissions in the use or misuse of any product purchased. In no event shall PowerPak be liable for any direct, special, indirect, consequential, or incidental damages or any damages whatsoever, whether in an action of contract, negligence or other torts, arising out of or in connection with the use of this information or the contents of this page. PowerPak reserves the right to make additions, deletions, or modifications to the contents on this page at any time without prior notice.

Reading the OSHA broad documentation for worksite first aid kits, we understand why this is a frequently asked question. It's clear that you need to have a first aid kit on your work site, but it's not very clear how to be compliant.
Right off the top, we can tell you you probably need an ANSI Z308.1-2015 Class B first aid kit or cabinet for your worksite. But to be sure, we will break it down part by part and let you know what needs to be included in a first aid kit for construction.
ANSI Rating of First Aid Kits
You might be confused because the OSHA documentation doesn't list exactly what you need in a first aid kit. For that information, we need to look at the ANSI Z308.1-2015 standard.
This standard was updated in 2015. You will still see kits on the market that are labeled ANSI Z308.1-2009 (from the 2009 standard) and kits that don't have an ANSI rating label at all. Don't immediately discount them. You can check the kit quantities to see if they also meet the 2015 standard.
Something to note, neither ANSI nor OSHA physically approve or certify specific kits. When a kit says it is ANSI approved, what that means is the kit contains the minimum content required to meet the ANSI Z308.1 standard. It does not indicate that the kit was sent into an ANSI-certified lab, tested, and awarded a rating. That's not how this ANSI standard works. You should also double-check any kit for quantity minimums, regardless of whether it claims ANSI compliance or not. The kit quantities are listed in the next section.
Class A vs. Class B First Aid Kits
ANSI gives you the choice of two first aid kits and cabinets. Class A and Class B.
Class A First Aid Kits and cabinets are the more basic option with everything you need for common workplace injuries. Class A is what you'll find in offices.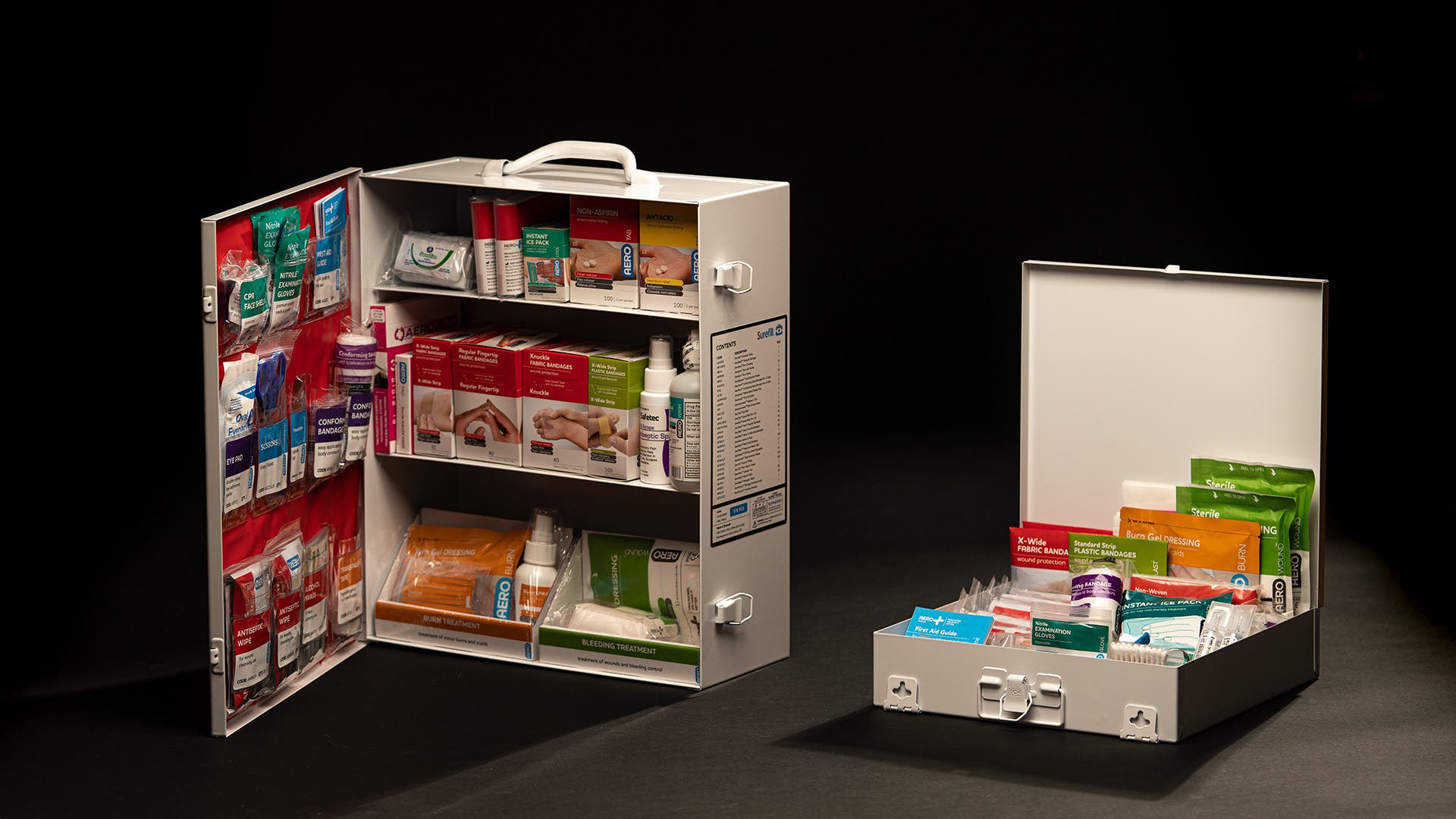 Class B First Aid Kits and Class B first aid cabinets are what you will need for a work site. Class B kits and cabinets have additional tools and supplies to deal with more severe injuries.
Class A kits are required to have the following:
(1) Triangular bandage
(2) pairs of medical gloves
(2) Trauma pad
(1) 5 yard roll of adhesive tape
(3) 3"x3" sterile pad
(2) sterile eye pad
(1) 2"x 4.1 yard roller gauze
(16) 1" x 3" adhesive bandage
(1) first aid guide
(1) pair of scissors
(1) cold pack
(1) CPR barrier
(1) 4"x4" gel soaked burn dressing
(10) antiseptic treatment
(10) antibiotic treatment
(10) burn treatment
(2) ½ fl oz eye/skin wash
(6) hand sanitizer application
Class B kits are required to have the following:
(2) Triangular bandage
(4) pairs of medical gloves
(4) Trauma pad
(1) 5 yard roll of adhesive tape
(2) 4"x4" sterile pad
(2) 3"x3" sterile pad
(2) sterile eye pad
(1) 4" x 4.1 yard roller gauze
(2) 2"x 4.1 yard roller gauze
(50) 1" x 3" adhesive bandage
(1) first aid guide
(1) pair of scissors
(2) cold pack
(1) CPR barrier
(2) 4"x4" gel soaked burn dressing
(50) antiseptic treatment
(25) antibiotic treatment
(25) burn treatment
(1) 4 fl oz eye/skin wash
(10) hand sanitizer application
(1) splint
(1) tourniquet
In addition to having more than double the quantity of select items, Class B first aid kits/cabinets also need more advanced items like splints and tourniquets.
First Aid Kit Types
ANSI further categorizes first aid kits by "type". Type 1 – 4 classifies the kits by mounting options, portability, weather resistance, impact resistance, and indoor vs outdoor.
Type I: These kits are for indoor use only. They are not designed to be portable. They should be mounted in a place that is easily accessible and won't be subject to any hazards. So, these are ideal for offices, general use, parking facilities, etc.
Type II: Similar to type I kits, these kits are also only for indoor use and should not be subjected to any hazards that could damage the kit. The key difference is type II kits are portable and should have a carrying handle. These are ideal for similar environments as Type I.
Type III: These kits are mountable. They can be used indoors and outdoor but should still be kept safe from potential hazards. These kits should have a water/weather-resistant seal. These first aid kits are good for Type I and Type II environments as well as sheltered outdoor environments.
Type IV: These are the first aid kits that are designed for work sites/construction sites. They are portable and have a water/weather-resistant seal. They are durable and designed to be subjected to environmental factors and worksite hazards. These type IV first aid kits are ideal for construction, utility work, armed forces, etc.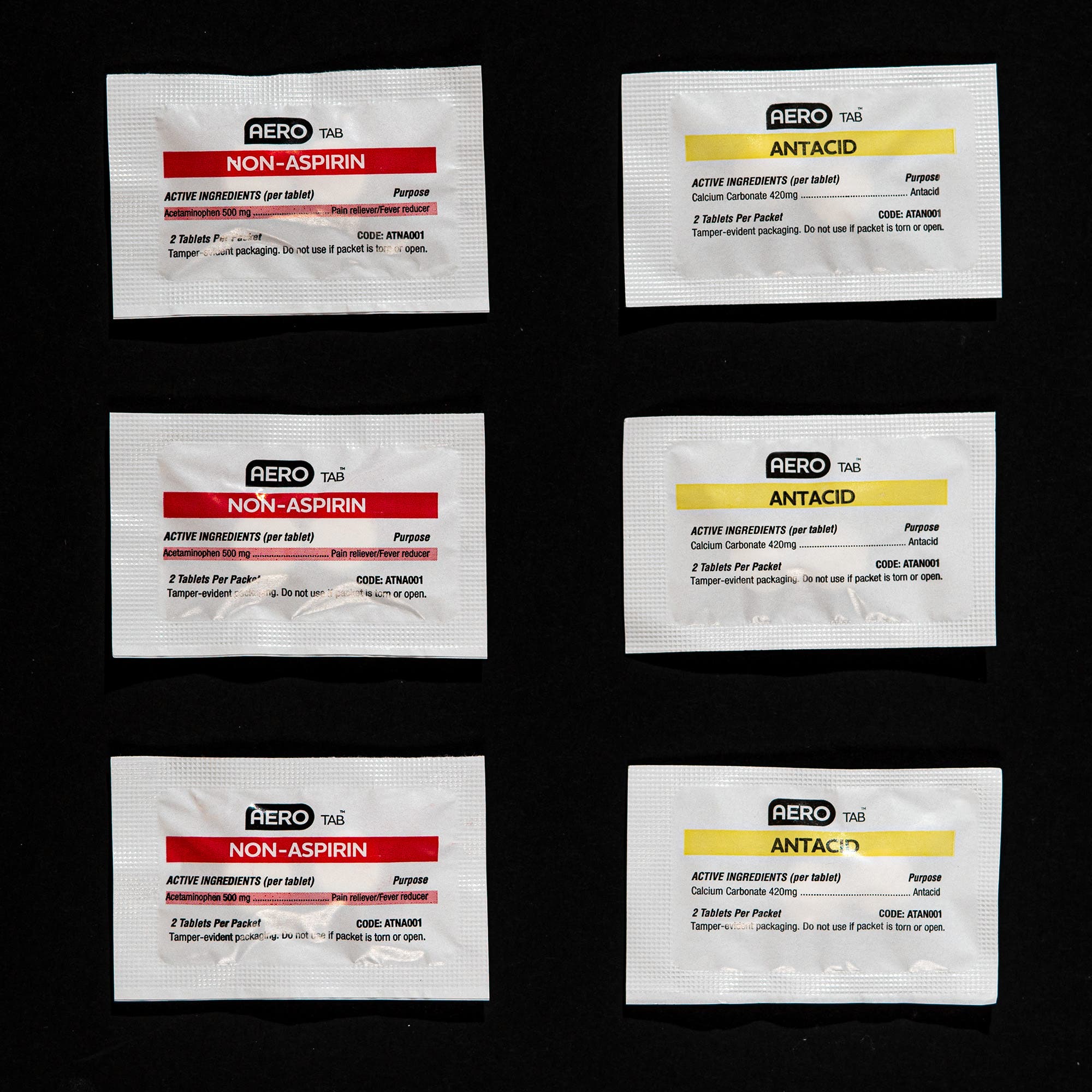 Additional First Aid Kit Contents and Measures
You may find first aid kits stocked with items not mentioned above, such as over-the-counter (OTC) medications like Ibuprofen or antihistamines. These items are not required by ANSI standards but are included in many first aid kits by manufacturer recommendation. Any included medication must be in single-dose packaging that will clearly show if there has been any tampering. OSHA also requires that the medicine be non-drowsy.
It's important to remember that ANSI Z308.1-2015 lists the minimum content requirements. In addition to those minimums, you should outfit your kit with any needed tools or supplies specific to your work conditions.
OSHA also requires that adequately trained personnel be present at all times, which means that employees will need to be trained in first aid, use of an AED, if present, or CPR. There are many resources to help you set up training sessions.
Something that is not in the kit but may be needed in your facility or worksite is an eyewash station. An eyewash station can be a permanent fixture or a temporary portable device.
Assessment
Assessing what type of first aid kit you need plus what additional items and training you need is the hardest part of this process.
Conducting a workplace risk assessment is valuable information to have beyond deciding what first aid kit you need. It's always good to start by determining the most significant hazards workers are exposed to in your workplace. From there, you can determine a kit type, class, and most of the additional supplies needed.
Then determine what type of training would be most valuable based on those same hazards. Working with a certified training company can help you fill in many blanks.
It is also important to keep an incident log. This log can help verify your ongoing compliance if it is ever in question.
Unitized
In the 2015 update, ANSI removed the unitized standard. A unitized first aid kit has uniform boxes inside them and is color-coded by category. ANSI removed this standard to focus on the contents of the first aid kits and less on how the contents are displayed or organized. Manufacturers still make unitized first aid kits easy to manage, so you will still see them around, but there is no longer an ANSI standard for unitization.
That being said, most manufacturers still follow the old ANSI unitized standard when it comes to the color code.
Blue boxes are for antiseptics.
Yellow is for bandages.
Red is for burn treatment.
Orange is for personal protective equipment.
Green is for everything else.
Some manufacturers take unitized kits a step further, and when the contents of any of the boxes get depleted enough, it will reveal a part number so that you can order a replacement. This is a helpful maintenance reminder for those who are self-maintaining.
First Aid Kit Maintenance
That brings up our next point. All first aid kits require maintenance, even if you don't use them. All items in the kit have a shelf life and need to be replaced on a scheduled basis. It's not difficult to self-maintain a first aid kit. It may require you to label and mark the contents and set a schedule for replacing and restocking.
If you plan to self-maintain, you will need to designate an employee or a person to keep the first aid kit up to date.
You can also utilize a first aid kit maintenance service. Usually, you sign up for a service contract, and they will send someone out intermittently to inspect and restock your kit. These contracts are more common with mounted first aid cabinets. The downside to these services is they are often costly.
Locking
Most people assume it's a violation, but you are allowed to lock your first aid kit or cabinet. This choice might be made if there is a risk of theft or for ease of maintenance. The rule regarding locked first aid is that someone with a key has to be readily available at all times. First aid kits can be locked, but they cannot be inaccessible in an emergency.
OSHA Fines
Non-compliance for first aid kits and workplace safety, in general, is considered an OSHA violation and could result in a fine. The fine amount depends on the severity of the non-compliance and the state. An initial violation can result in a fine of around $13,000, and a repeated violation can be over $100,000.
In many states, you can request an OSHA inspection. This may seem counter-intuitive, but in most cases, requesting an inspection will result in OSHA sending an agent from a consultancy firm that will help assess your needs rather than fine you.
Worksite First Aid
If you are looking for the right type of first aid kit for a construction job site, to be compliant, you likely need a Class B Type IV kit, and to be safe, you'll want to add any additional supplies that address the specific hazards on your site. First aid should always go beyond the minimum requirements to meet compliance. Remember, the whole point is to quickly supply the correct supplies and treatment to an employee in an accident. This can only happen with a combination of risk assessment, training, and maintenance.